He is recognized as the greatest athlete of modern times. In the boxing ring, he was nothing short of superb, punishing his opponents at will. Yet, it was outside of the ring that he he would have his greatest battles – and show the world what it really meant to be a man.
In this week's Biographics biography, we discover what it was that made Muhammad Ali the greatest.
"It's just a job. Grass grows, birds fly, waves pound the sand. I beat people up."
Ali's Early Life
Read more about Muhammad Ali.
Cassius Marcellus Clay was born om January 17th, !942 in Louisville, Kentucky. His father, Cassius, Senior, was a sign painter, while his mother, Odessa, worked as a maid for wealthy white folks in Louisville.
A precocious but polite child, young Cassius was raised as a God-fearing Baptist along with his younger brother Rudy. In his younger years he gave no indication to his athletic future. He steered clear of sports, preferring to play marbles with Rudy or read comic books on his bed.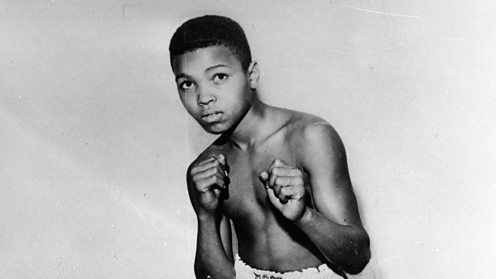 In 1954, when he was twelve years, Cassius and a friend rode their bicycles to the Columbia Auditorium, which was hosting the Louisville Home Show. They spent the afternoon checking out the wares of various African-American merchants and gorging themselves on the free popcorn and candy that was on offer.
When they emerged from the exhibition, the boys were dismayed to discover that Cassius' brand new red and white Schwinn bike was missing.
It had been stolen.
Cassius was livid with rage. Crying and upset he began asking people if they'd seen who took his bike. A woman suggested that he report the theft to Officer Joe Martin who operated a boxing gym in a nearby basement. Finding Martin, Cassius explained what had happened, adding that he was going to 'whup' whoever had taken his bike. Martin, who had been coaching youth boxing for decades, asked the boy if he knew how to fight. When Cassius admitted that he didn't, the officer suggested that he'd better learn.
It was the beginning of a long friendship and a glorious career.
An Emerging Boxing Champ
Cassius threw himself into boxing training with a passion and commitment that impressed Martin. Although he had very little natural skill, he had more heart than anyone else in the gym. He'd race to the gym every day as soon as school let out and would even train on Saturdays. Martin had never seen a kid work so hard.
Outside of the gym, Cassius stayed away from anything that would interfere with his training. He was displaying the kind of determination and discipline that was lacking in many of the older boxers that Martin coached. Martin introduced Cassius to a local boxing trainer named Fred Stoner, who helped to teach him the fundamentals of the sport. Under the guidance of these two men, young Clay began winning one amateur bout after another.
Month after month, year after year, a handful of amateur wins built up a formidable record. By the age of 18 he had won 108 bouts, six Kentucky Golden Gloves championships and two national AAU titles.
In the ring, Cassius was fearless. He carried a self confidence and believe in his ability that put his opponents off guard before the first round bell had even sounded. But in his personal life he struggled. He was a poor student, with his teachers unable to understand why he couldn't transfer the dedication he put into his sport to his studies. No one realized at the time that his struggles in school were due to the reading disability, dyslexia.
In February, 1957, Professional Boxer Willie Pastrano visited Louisville with his trainer, Angelo Dundee. Cassius found out where he was staying and phoned Pastrano's hotel room. The phone was picked up by Dundee. Cassius blurted out that he was going to be the world's greatest boxer and that he wanted to meet Pastrano. With nothing on their schedule that afternoon, Dundee and Pastrano invited Cassius to their hotel room.
For the next several hours, Cassius peppered Pastrano with questions, only pausing long enough to predict his own future greatness. A bemused Angelo Dundee was impressed with the boy and kept in touch with him. He sometimes sent Cassius and his family free tickets when one of his boxers had a fight lined up in Louisville.
Olympic Gold Medal Winner
In March, 1959, Cassius was training in a gym in Chicago, Illinois prior to an AAU title bout. He overheard some other boxers talking about a group called the Nation of Islam, who were espousing Black pride. Back home in Louisville, he decided to learn more about the group by doing a school assignment about them. However, his teacher shut the idea down, telling him that the group were dangerous and that they preached hatred against all white people.
"A man who views the world the same at fifty as he did at twenty has wasted thirty years of his life."
Clay, however, was still intrigued by the Nation of Islam. He got hold of a copy of a newspaper they put out and reading as much as he could about them. At the same time, he was wrestling with the weighty decision about what direction to take his boxing future. People had been talking him up as a hot prospect for the 1960 Olympics in Rome. At that time, only amateurs were eligible to compete at the Olympics, so he had to decide if he was going to turn professional or compete in Rome as part of the United States boxing team. He turned to Angelo Dundee for advice.
Dundee told Cassius that he could earn more money as a pro if he was an Olympic champion first. As a result, he decided to stay an amateur and compete in the Olympics. By the time the American Olympic team were set to depart for Italy, Clay was in peak physical condition and mentally primed for victory. But, there was one slight problem – he was terrified at the prospect of flying on a plane. In fact, he was so terrified that he almost passed up the opportunity to represent his country. He only relented when his old friend and mentor, Joe Martin, convinced him to fly with a parachute on his back!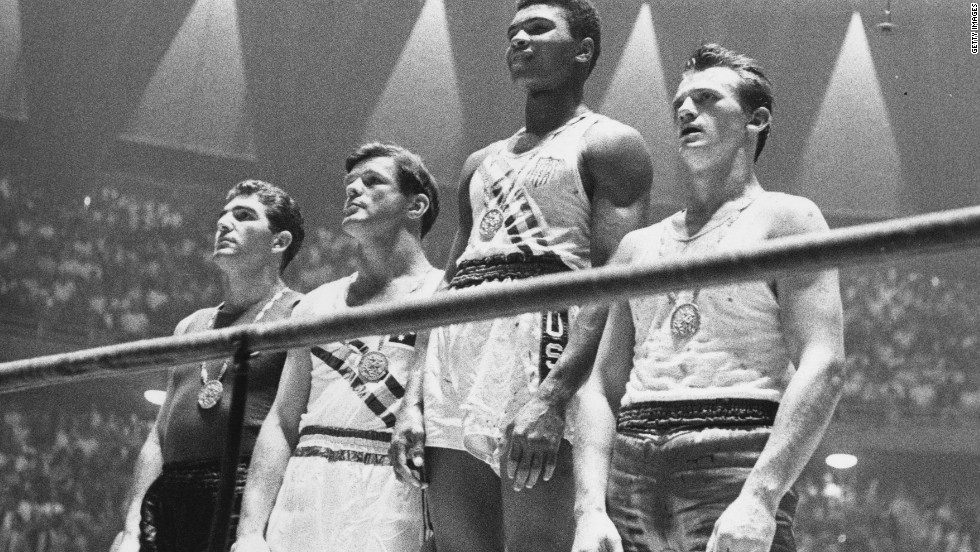 Fortunately, Cassius didn't need to operate his parachute and the plane touched down in Rome without incident. He began his Olympic campaign with a quick two-round win over Belgium's Yvon Because. That victory was followed with a win over the Soviet Union's Genrdiy Shatkov, the gold medal winner at the 1956 Olympics. Cassius then triumphed in the semi-finals, defeating Australia's Anthony Madigan.
The only man standing between Clay and Olympic glory was Poland's Zbigniew Pietrzykowski. In contrast to Cassius, who had only been boxing for six years, Pietrzykowski was a three-time European Champ and had even won bronze at the 1956 Olympics. However, it was Clay who played the more aggressive game, throwing an avalanche of punches to take a first round lead. The Polish champ was unable to recover and, at the end of three rounds, Cassius claimed the Olympic Light heavyweight gold medal.
Cassius returned to Louisville a local hero, with even the mayor turning out to receive him. He was so proud of his victory that he wore his gold medal everywhere. About a week after his return, he and a friend ducked into a restaurant to get out of the rain. But when they tried to order a couple of cheeseburgers and milkshakes, they were told that the restaurant did not serve Black people and were thrown out.
Cassius Clay was an Olympic champion. Yet he was still a second class citizen in his hometown. Standing on the Second Street Bridge, he grabbed his gold medal, ripped it from his neck and threw it into the Ohio River.
Turning Pro
Despite his frustration with the social climate, Cassius was facing a bright boxing future. Turning professional, he was sponsored by a group of local white businessmen who agreed to sponsor him. They offered to pay him ten thousand dollars up front and to cover all of his training expenses. In return, they would take half of his earnings for the next six years.
Despite his impressive victories in Rome, boxing pundits didn't expect a great career for Clay. The consensus was that had quick footwork, but not much else. He spent too much energy, they said, dancing around the ring and, when he leant back to protect his face, he would leave his body exposed. However, Cassius relied on his long reach to strike his opponents from a distance.
Cassius wanted to train under Angelo Dundee, but his sponsors sent him to California to wprk with a trainer by the name of Archie Moore. He made his pro debut in front of his home crowd on October 29th, 1960, His opponent was Tunney Hansaker. Clay won the fight with a unanimous six round decision.
It was a great start to his pro career. But Clay wasn't happy with Archie Moore's training style and he headed to Miami and asked Angelo Dundee to take over as his trainer. Dundee agreed, but it meant that Cassius had to live in a very rough neighborhood that was filled with gangs, drugs and prostitution. Still, he took immediately to his new training environment, flourishing under the tutelage of Dundee.
"It isn't the mountains ahead to climb that wear you out; it's the pebble in your shoe."
By now it had become evident that Cassius was a master self promoter. In fact, his mouth worked faster than his fists. He never tired of announcing that he was the greatest, the prettiest and the fastest athlete to ever step into a ring. But, he was soon encouraged to talk even more.
In June, 1961, Clay traveled to Las Vegas for a boxing match. While in Vegas, he went to see a wrestler by the name of Gorgeous George. Cassius watched as George acted outrageously, trash talking his opponent for an upcoming match. He talked endlessly before, and even during, the match. The whole crowd rooted for the other guy.
After the match, Cassius met George backstage. The wrestler explained that his self promotion was designed to get as many people as possible to pay to come and see someone shut his mouth. He advised Clay to keep sassing his opponents and to always be outrageous. He also told him to find a gimmick to set himself apart.
Clay soon found his gimmick – he would predict the round that he would win the match in.
Heavyweight Champ
On November 15th, 1962 Cassius met his former trainer Archie Moore in the ring. Moore claimed that he had developed a 'lip buttoner' punch to finally silence the Louisville Lip, as Cassius had come to be known. In response, Clay predicted a fourth round knockout. And that is precisely how the fight went down.
Cassius was now a sixteen win, zero loss pro. He felt he had earned a shot at the heavyweight world champ, Sonny Liston. He engaged upon a campaign of taunting Liston into taking the challenge. He began referring to the champ as a big ugly bear, and even once traveled to his hometown of Springfield, Colorado and banged on his door at three in the morning to call out the champ. Clay made sure that TV cameras were recording every second of the charade.
Finally, Liston had had enough and agreed to take on the upstart. The heavyweight champ made a prediction of his own – pain!
It was no idle threat. Liston was a mountain of a man who had a killer punch. He was considered by many boxing experts to be unbeatable.
Cassius trained hard for this, the biggest fight of his life. But he didn't give it his absolute focus. Both Cassius and his brother Rudy were becoming increasingly interested in the Nation of Islam. They started attending meetings and Cassius became enamored with leader Elijah Muhammad, along with the group's spokesman Malcolm X. As the brothers spent more and more time at their local mosque in Miami, Malcom told Cassius to wear his Nation of Islam membership proudly. The brothers spent more and more time at their local mosque in Miami.
When the title fight sponsors learned that the challenger was associating with the Nation of Islam, they threatened to cancel the event unless he disavowed the group. But Clay would not abandon his newfound faith. He was prepared to walk away from boxing to stay true to himself.
The sponsors backed down and the fight went ahead. Liston was used to knocking opponents out in the early rounds, but Clay was too fast. His quick feet danced around the ring and Liston was unable to touch him. After a grueling six rounds, Liston refused to come out for the seventh.
The twenty-two year old Cassius Clay was now the youngest heavyweight champ in history. As great a shock as his win was, it was superceded the very next day when he officially announced that he was a member of the Nation of Islam and that he was changing his name to Cassius X. A week later the name evolved into Muhammad Ali.
The Nation of Islam were very unpopular with most of America. It was predicted that, if he fought Liston again, there wouldn't be anyone rooting for him.
The two did meet again – on May 25th, 1965. Many in the anxious crowd expected to see Liston win back the title he had lost to Ali. Instead they were stunned to see the former champ get knocked out in the first round.
On November 22nd,1965, Ali successfully defended his title against former champ Floyd Patterson. Patterson had spoken out against the Nation of Islam and refused to call Ali by his Muslim name. Ali made him pay for the sleight, mercilessly pounding him while yelling, 'What's my name?'
In 1966, Ali defended his title 5 times, four of those defenses being held outside the United States. On February 6th, 1967 he fought Ernie Terrell in Houston, Texas. Terrell had enraged Ali by, just like Floyd Patterson before him, refusing to call Ali by his name. The result was what many believe to be the worst beating every dished out in a professional boxing match.
The champ tortured Terrell for the full 15 rounds, bringing him just short of a knockout and then backing off, only to wallop him again with further combinations. Ali won a unanimous points decision.
Taking a Stand
Ali's next battle would pit him against the might of the United States government. On April 28th, 1967, he turned up at the Houston Induction Center for the US Armed Forces. When the time came for him to take one step forward, signifying his induction, Ali didn't move. He explained that his religious believes prevented him from joining the army and killing people with whom he had no quarrel. He further stated that he could not, in good conscience give support to a war that he felt to be morally wrong.
Within 24 hours Ali had been stripped of his heavyweight title as well as his license to box in every state in the country. In an instant the title that he had worked so hard for was gone. When the US Government took away his passport he couldn't even box overseas. They had effectively taken away his livelihood.
However, the champ was never going to lie down. He became am unlikely hero to the millions of young anti-war activists around the nation. He spoke at the most prestigious Universities, where he was introduced as the first national figure with the courage to stand up against the war in Vietnam.
"The only thing that matters is submitting to the will of God."
Still, the late 60's were lean years for Ali. On August 17th 1967 he married Belinda Boyd. The next year they had a child, Maryum. But Ali's name brought him new opportunities and he managed to make ends meet. He did everything from opening a restaurant called Champ Burgers to starring in the musical Big Time Buck White.
As the years passed, Muhammad continue training in the hope that he would one day get the opportunity to reclaim his title. Finally, towards the end of 1970, some promoters in Georgia, which didn't have a boxing commission, organized a bout against Jerry Quarry. Though slower than he had been, Ali won in convincing fashion. Now other states considered letting him fight again. If he could get another win under his belt, he might even get a shot at reigning champ Joe Frazier.
Bouncing Back
To get to Frazier, Ali had to first defeat Oscar Bonavena. The fight almost went the full 15 rounds, with Bonavena taking a great deal of punishment. But he also dished out a level of abuse that Muhammad had never had to withstand before. Still Ali won in a last round TKO.
The fight of the century – the first ever between two undefeated heavyweight champs – took place on March 8th, 1971. Frazier and Ali traded blow after blow. Five years before, Ali would have easily dodged some of Frazier's punches. But now he could only take the hits and fight through the pain and abuse. The fight went the distance. It could have gone either way, but in the end it was a unanimous decision to Frazier.
Muhammad Ali had suffered his first profession loss.
Still, he was determined to get back on top. He followed up his loss by winning ten fights in a row. But in his 11th he was stopped by the formidable Ken Norton who broke Ali's jaw. But Ali came back in a rematch, knocking out Norton in the sixth round.
Next came the rematch that he really wanted. He fought Joe Frazier, who had lost his title to George Foreman, for the second time on January 28th, 1974, winning in a twelve round unanimous decision.
But Ali still didn't have his title back.
To claim it, he would have to defeat the new champ. The twenty-four year old Foreman had so far won forty fights, and his last eight hadn't gone past the second round. On paper it looked like the thirty-two year old Ali didn't have a chance.
The fight took place in Kinshasha, Zaire on October 30th, 1974. Over the early rounds it appeared as if Ali was out of his depth, with Foreman apparently pounding him at will. What Ali was actually doing was allowing Foreman to punch himself to exhaustion. In the eight round, Muhammad came to life and delivered a devastating series of blows that put Foreman on the canvas.
The champ had reclaimed his heavyweight title.
A year later he faced Joe Frazier for the third time. Many believe that this was the hardest fought heavyweight clash of all time. Round after round, the stunned crowd watched in awe as the battered boxers somehow fought beyond exhaustion. In the end, Ali was declared the winner in the fourteenth round. He was so exhausted that he couldn't even stand up to celebrate.
A Waning Career
An aging Ali defended his title seven more times before squaring up to an unknown challenger by the name of Leon Spinks on February 15th, 1978. Ali underestimated the challenger, training lightly and not taking the fight seriously enough. That night he lost his title to a man who didn't even deserve to be in the ring with him at his prime.
Eight months later, despite obvious signs of developing Parkinson's Disease, he avenged the loss to claim an unprecedented 3rd world heavyweight championship. Nine months later he retired from the ring. But his time out of the ring would last for less than a year. On October 18th, 1980 he suffered a crushing defeat at the hands of his former sparring partner, Larry Holmes. A year later, he was dispatched by a far less impressive Trevor Berbick.
Time had finally caught up with Muhammad Ali.
"God gave me Parkinson's syndrome to show me I'm not 'The Greatest' – he is. God gave me this illness to remind me that I'm not Number One; He is"
Over the next decade his Parkinson's Disease got steadily worse. The body that had served him so well was giving up on him. Still, he wasn't done yet. In the late 1980's Muhammad Ali embarked on a new career as a humanitarian, statesman and promoter of tolerance and peace worldwide. By the time he left us on June 3rd, 2016, he was recognized as one of the great men, and certainly the greatest athlete of the 20th century.
Muhammad Ali Video Biography
Subscribe to our YouTube Channel