"Will history rate George W. Bush as the worst President ever?" At least half of Americans thought so a decade ago. During his presidency his approval ratings soared after the greatest terrorist attack on American soil. Then they bottomed out near the end of his term as the conflict in the middle east trudged on. A president's son with all the privilege in the world — he was a party boy in his youth — and he was never expected to enter politics. What made him follow in his father's footsteps? And, what is he up to today? Let's dive into the life of America's 43rd president, George W. Bush.
Early Life
George Walker Bush was the first of six children born to George H.W. Bush and Barbara Pierce Bush on July 6, 1946 in New Haven, Connecticut. The Bush family was well-off — theirs was a prominent northeast banking family and later, a political dynasty.
At the time of Bush's birth, his father George Sr. was an undergraduate student at Yale University. Immediately after graduating in 1948, George Sr. broke with family tradition and moved his young family to the boom towns of West Texas to try his luck in oil. But, at their first apartment in Odessa, the Bush's had to share a bathroom with neighboring prostitutes. In 1950, the family settled in Midland, Texas — once referred to as the "headquarters of the independent oil man." At the time, 215 oil companies had offices there. Bush Sr. would eventually earn a fortune in the oil business — making millions by the time he was 40 years old.
The first family home in Midland was in a development nicknamed "Easter Egg Row," for its tiny, colorful houses. As the Bush family grew however, they needed more space so they moved to a larger home on Ohio Avenue in 1951. "Georgie," as he was often called, was five years old at the time. Today, Bush's childhood home is listed on the National Register of Historic Places and is open to the public six days a week.
Bush enjoyed an idyllic, Baby Boomer childhood growing up in West Texas. The neighborhood was safe and full of young families. He played baseball — idolized the great Willie Mays, and developed friendships that remained throughout his life. The Sam Houston Elementary School was not far from his house.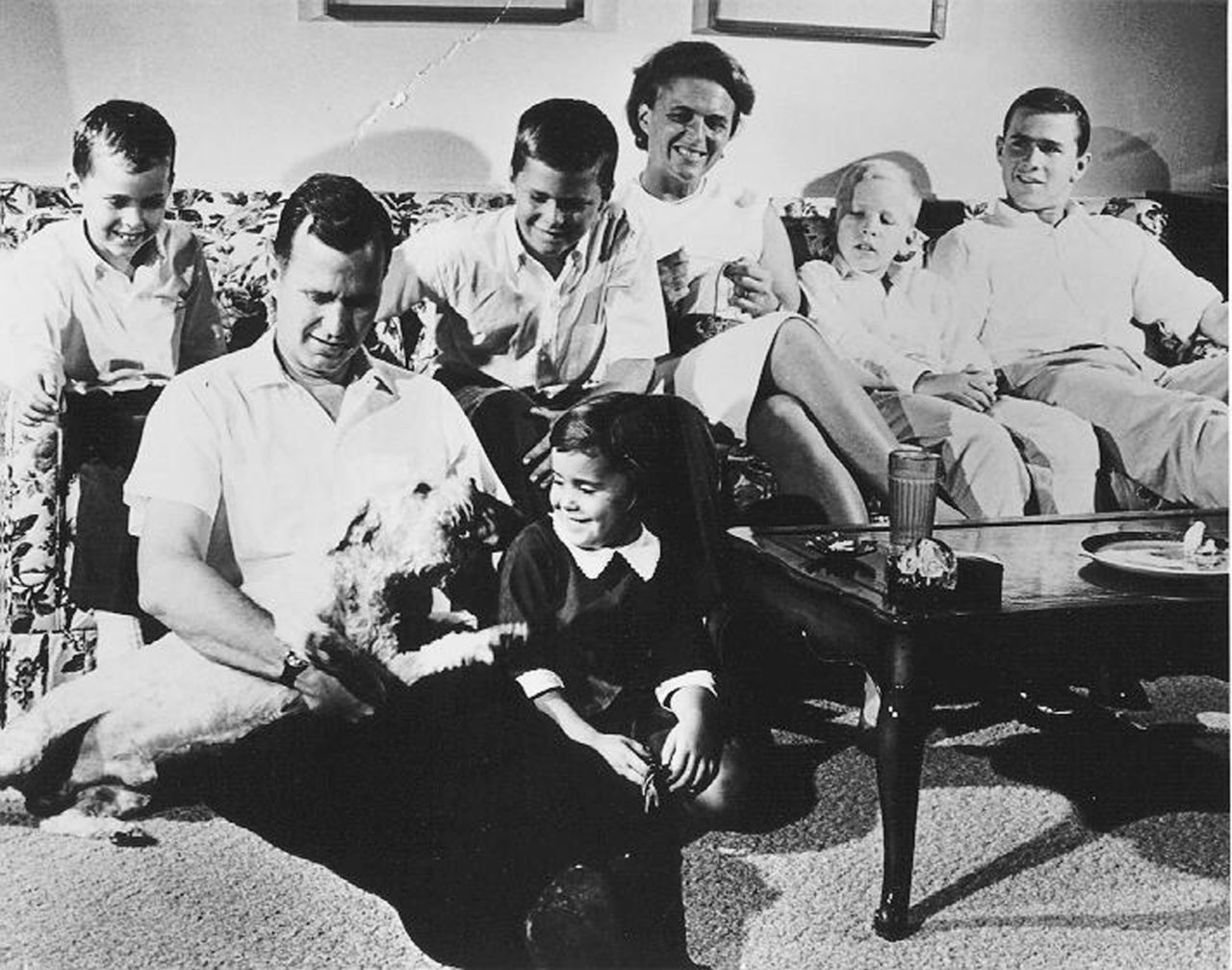 In 1953, tragedy struck the Bush family when three-year old Pauline "Robin" was diagnosed with a strange disease neither Barbara or George Sr. had heard of before: leukemia. Despite their best efforts — taking her far from home for treatment in New York's Sloan Kettering cancer center — Robin died seven months after the diagnosis. George Jr. was seven and had not known his sister's grave condition. After her death, his parents picked him up from school in the big green Oldsmobile. He recalled years later being positive he saw his sister in the backseat — and he was excited, and ran to the car to see her. When his parents broke the news he understood she was gone, and it changed all their lives forever. Some say the loss of Robin was the impetus for the deep, mother-son bond George Jr. and Barbara formed. They spent a lot of time together after her death.
Eventually, the Bush family added three more children to the clan, including Neil in 1955, Marvin in 1956, and another daughter, Dorothy in 1959. That same year, with George Sr.'s success in the oil business, the Bush's relocated to Houston.
School Days
In 1960, the fourteen year old Bush was sent away to attend the exclusive all-boys boarding school Phillips Academy in Andover, Massachusetts. Here, he lived in the shadow of his more successful, alumnus father. For a fun-loving Texan, Phillips was a drastic change. The curriculum was rigorous, the environment was ultra-structured, and it was cold. Bush was envious of his buddies back home — they got to take their girlfriends out on Friday night dates. With no social life to speak of, he played sports instead.
Academics did not come easy for Bush either — he received a "zero" on his first written assignment. Not wanting to fail, Bush spent many nights at Phillips after curfew studying by the light that seeped under his door. He developed a love of American history during his high school years and said later, he would "bloom where he was planted." In his adult life Bush acknowledged receiving a first-rate education at Phillips.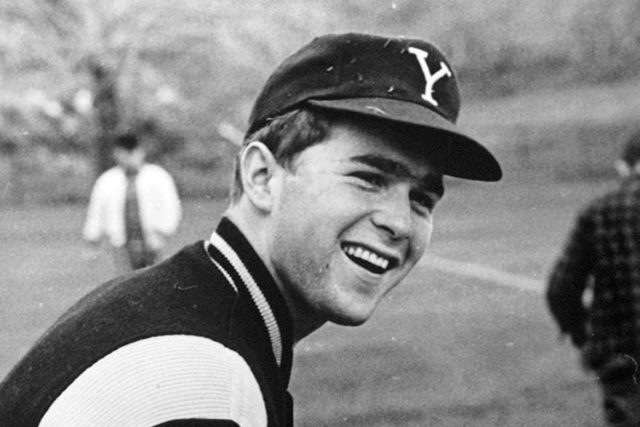 In 1964, when it was time to go on to college, Bush chose his father's, and his grandfather's alma mater, Yale University. During his freshman year, his father decided to run for Texas Senate and called upon his son for help. Bush Jr. worked on the campaign — doing what he could from Connecticut. The elder Bush lost but the it proved to be a valuable, first-time learning experience for George Jr.
While at Yale, Bush had a reputation for being a good times guy. He excelled socially like he always had and struggled with his studies (he was a C student). He had also wanted to play baseball but found out quickly that rugby suited him better — he played the position of fullback. In his first year, Bush joined the fraternity Delta Kappa Epsilon (DKE) and eventually became its president. In his junior year he was "tapped" for induction into Yale's premiere secret society, Skull and Bones. He was the third Bush, together with his father and his grandfather, to be indicted. Conspiracy theorists have attempted to link the secret group to the CIA, the Illuminati, even the Nazis. Bush himself remains tight-lipped about his involvement as a "Bonesman."
Bush graduated with a bachelor of art degree from Yale in 1968. The same year Martin Luther King Jr. and John F. Kennedy were assassinated and the war in Vietnam was raging.
Military and Early Career
In May of 1968, Bush was commissioned into the Texas Air National Guard. After two years of training in active-duty service, he was assigned to Houston, flying Convair F-102s with the 147th Reconnaissance Wing out of the Ellington Field Joint Reserve Base.
During his presidential campaign in 2004, critics of Bush, including Democratic National Committee chairman Terry McAuliffe, accused him of receiving preferential treatment while in the service and of being absent without leave (AWOL) from 1972 – 1973. Following the controversy, the Department of Defense released all records related to Bush's Texas Air National Guard service in June 2005. According to his released records, Bush never flew in the Air National Guard after April, 1972. His pilot license had been revoked for failure to undergo the mandatory physical examination. In 1972, Bush was living in Montgomery, Alabama and working on the U.S. Senate campaign of Republican Winton M. Blount. While in Alabama he drilled with the 187th Fighter Wing of the Air National Guard. Bush was honorably discharged from on November 21, 1974.
In 1973, Bush entered Harvard Business School and graduated with an MBA in 1975. Soon after in 1977, he began his industry career in Texas oil, establishing Arbusto Energy with a number of other private investors. Operations began the following year in 1978. Bush was not as successful in the oil business as his father and he sold Arbusto in 1984 to Spectrum 7, another Texas gas exploration firm. He remained the CEO under the terms of the sale. In 1986, Spectrum 7 merged with Harken Energy Corporation where Bush held a seat on the board of directors and retained an annual consulting contract.
In 1988, Bush was working on his father's bid to become the next president of the United States when he learned his father's friend and fellow oil man, Eddie Chiles, was selling the Texas Rangers baseball franchise. Not wanting this opportunity to slip by, Bush helped organize a syndicate to purchase controlling interest in the team — at a reported 89 million. Bush became the general manager even though his initial investment was small at $500,000. Bush took out a loan to pay for his share.
In 1990, Bush sold his Harken stock to help pay the balance of the loan he had taken out to purchase the Rangers. Two months after the sale however, Harken released its quarterly numbers — showing a larger-than-expected loss. Insider trading allegations erupted and the sale of Bush's stock was investigated by the U.S. Securities and Exchange Commission who ultimately found no wrongdoing.
Personal Life
In 1977 Bush was invited to BBQ at his friend's house in Texas. The only other guest was woman Bush had never met — even though she was from Midland too. Bush was enamored with the beautiful teacher and librarian Laura Lane Welch and the two fell in love almost instantly. It was a short, whirlwind romance before they wed three months later on November 5, 1977. The couple settled in Midland and in 1981, the couple had fraternal twin daughters, Jenna and Barbara.
Bush credits his wife Laura with bringing his life into order. As a young man, he was aimless with periods of unemployment, drank too much, and enjoyed going out — a time he refers to as his nomadic period. One embarrassing episode came back to haunt him years later on the campaign trail in 2000. At the age of 30, while on vacation in Maine at the family's summer residence, he was arrested for drunk driving. Bush kept the matter private until the story broke in the news media. When asked about it he responded, "I oftentimes said that years ago I made some mistakes. I occasionally drank too much and I did on that night," Bush said. "I regret that it happened. But it did. I've learned my lesson."
Soon after his marriage to Laura Bush joined the United Methodist Church and became a born-again Christian. The day after his 40th birthday on July 6, 1986, Bush gave up drinking alcohol for good.
Governor of Texas
Bush decided to run for governor of Texas as a Republican after his father failed to win the presidential re-election in 1992. As manager for the Texas Rangers, Bush had earned a reputation as a savvy businessman and he was well-liked in his home state. His campaign against Democrat Ann Richards focused on welfare and tort reform, reducing crime and improving education. The Richards camp was sure Bush would make a gaffe or lose his temper on the campaign trail but he never did. It was a close race and a contentious one. Bush won the election with 53 percent of the vote and was sworn in as the 46th Governor of Texas in 1995. He became the first child of a U.S. president to be elected as a state governor. In 1998, he was re-elected with 69% of the vote and became the first governor in Texas history to be elected to serve two consecutive four-year terms.
As governor, Bush was left with a budget surplus which he used to push a $2 billion tax-cut plan to reduce property taxes and increase funding for education reform. The tax-cut was the largest in Texas history and to pay for it he sought the federal government's approval to privatize social services. Two other notable pieces of legislation he signed into law included the lowering the age at which juveniles could be tried as adults in criminal cases and a requirement of electric retailers to buy a portion of energy from renewable sources. Eventually, Texas became the largest producer of wind powered electricity in the U.S. In his second term, Bush promoted Faith-based organizations and proclaimed June 10, 2000 Jesus Day in Texas — a day of which he "urge[d] all Texans to answer the call to serve those in need."
A criticism of his time in office was the fact that under his leadership, Texas executed 152 prisoners — at the time, it was more than any other Texas governor. Overall, Bush had the reputation for working well across the aisle in a non-confrontational way, and this earned him respect. And, throughout his first term and after his successful, easy re-election, speculation increased as to whether Bush would make a bid for the White House.
America's 43rd President
On June 14, 1999, Bush formally announced his candidacy for the Republican presidential nomination.
"I'm running because our country must be prosperous. But prosperity must have a purpose. The purpose of prosperity is to make sure the American dream touches every willing heart. The purpose of prosperity is to leave no one out—to leave no one behind. I'm running because my party must match a conservative mind with a compassionate heart. And I'm running to win."
During the early part of the 2000 campaign Bush enjoyed a double-digit lead in the polls over his opponent Vice President Al Gore Jr. As the election approached, the gap narrowed and Gore beat out Bush in the popular vote by 543,895. With the deciding votes hanging on Florida, the race was determined "too close to call" by major news networks after first proclaiming Gore the winner. The margin was so close it spurred a recount in some counties as lawsuits made their way through the courts. The final electoral count was Bush with 271, and Gore with 266. To this day, only five U.S. presidents have lost the popular vote and won the election.
Bush was sworn in as America's 43rd President on January 20, 2001. For the second time in history, a son of a former president had made it to the White House. The first was the sixth president John Quincy Adams, elected in 1824. His father was John Adams, the second president.
Bush's new administration was focused on "compassionate conservatism," which embraced excellence in education, tax relief and volunteerism among faith-based and community organizations. It wasn't long before his focus drastically changed as he faced the "greatest challenge of any President since Abraham Lincoln."
On the morning of September 11, 2001, 19 men trained by al-Qaeda carried out a coordinated terrorist attack on the United States — hijacking four large passenger airplanes with the intention of crashing them into major landmarks. Three of the four planes hit their targets — the North and South Towers (Twin Towers) of the World Trade Center, and the Pentagon in Arlington, Virginia. The fourth plane crashed in a field in rural Pennsylvania. In a single day, these deliberate acts of mass murder killed nearly 3,000 people, 400 of which were first responders.
As the attacks were happening, President Bush sat in a classroom at Emma E. Booker Elementary School in Sarasota County, Florida with children, reading The Pet Goat. White House Chief of Staff Andrew Card whispered in his ear, informing him a second plane had hit the World Trade Center. What President Bush did next was one of the most controversial decisions of his presidency. He stayed in the classroom for seven more minutes, following along with the students' reading before excusing himself. He was briefed and gave a short press conference while at the school before being taken to a secure location to board Air Force One.
Michael Moore, in his film Fahrenheit 9/11, was highly critical of Bush's seven minutes of inaction in the classroom– claiming it indicated Bush was indecisive. On the other side, his defenders made the case for keeping the children calm — saying it was Bush's most important duty at the time.
From the White House on the evening of 9/11, he spoke to all Americans with resolve to fight terrorism and stand together as a nation:
"America and our friends and allies join with all those who want peace and security in the world, and we stand together to win the war against terrorism. Tonight, I ask for your prayers for all those who grieve, for the children whose worlds have been shattered, for all whose sense of safety and security has been threatened. And I pray they will be comforted by a power greater than any of us, spoken through the ages in Psalm 23: "Even though I walk through the valley of the shadow of death, I fear no evil, for You are with me."
In response to the terrorist attacks of 9/11, Bush declared War on Terrorism and formed a new cabinet-level Department of Homeland Security. He sent American forces into Afghanistan to break up the Taliban, an extremist group under Osama bin Laden that trained, financed, and exported terrorist teams. The Taliban was disrupted but Bin Laden was not found until later. Following the attacks, President Bush also recast the nation's intelligence gathering and analysis services, and ordered reform of the military forces to meet the new enemy. At the same time he delivered major tax cuts which had been a campaign pledge.
His most controversial act was the invasion of Iraq on the belief that Iraqi President Saddam Hussein posed a grave threat to the United States by possessing weapons of mass destruction. The weapons were never found. Saddam was captured but American servicemen and friendly Iraqis lost their lives during the conflict. In his State of the Union address in 2005, Bush pledged that the U.S. would help the Iraqi people establish a fully democratic government, bring hope to the region, and lift a threat from the lives of future generations.
Bush left office with an abysmal 33% approval rating. But his political advisor, Karl Rove said, stated that despite the possibility of regrets, Bush "has an inner confidence…that what he did was right."
After the White House
After he left Washington DC, Bush and his wife Laura returned to Midland and promptly took up residence at Prairie Chapel Ranch in Crawford, Texas. Then, they also bought a house in Dallas and became part of the community. Unlike some other former presidents, Bush seems to enjoy the rest and relaxation of being out of office. He golfs, has taken up painting (attracting national attention), attends Texas Rangers baseball games, and is involved in the community. He occasionally gives speeches and was very involved in the George W. Bush Institute he established at Southern Methodist University. He said once, "I think part of having a fulfilling life is to be challenged. I'm challenged on the golf course, I'm challenged to stay fit, and I'm challenged by my paintings…I am happy."
Video Biography of George Walker Bush
Subscribe to our YouTube Channel