He is the most bankable star in Hollywood – an action hero with a massive, ripped physique who has impeccable comedic timing and a never ending supply of charm. He is also one of the greatest wrestling superstars to ever emerge from the stables of the WWE and the only third generation wrestling star in history. The story of Dwayne Johnson – the Rock – is a tale of dedication, grit and old fashioned hard work. In this week's Biographics we chart the rise and rise of 2016's Sexiest Man Alive – Dwayne Johnson.
Formative Years
Dwayne Douglas Johnson was born on May 2nd, 1972 in Hayward County, California. His mother Ata was of Samoan origin, while his father, Wayde, was a Black Nova Scotia. Wayde earned his living as a professional wrestler under the name of 'Rocky Johnson'. To further entrench the wrestling gene in his blood, Dwayne's material grandfather had also been a professional wrestler. Promoted as High Chief Peter Maivia, he was the first Samoan wrestler to break into the big time. A generation later, Rocky became the first black champion to conquer the state wrestling scene.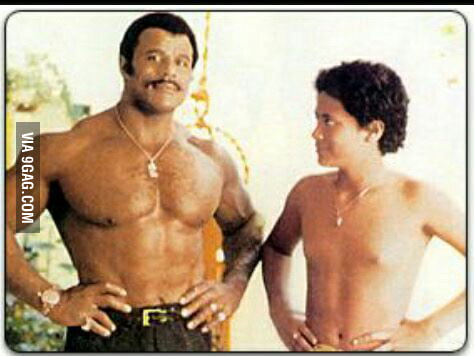 Rocky hustled as a wrestler, taking on bouts wherever he could in order to support his family. Times were tough with the family moving from state to state to keep pace with the wrestling venues. In fact, during Dwayne's formative years, the family of three lived in 38 of the 50 states as they became entrenched in the gypsy wrestling lifestyle.
The only time Dwayne got to see his dad was when he went on the road with him. He cherished these times and quickly fell in love with everything to do with professional wrestling. His dad taught him some basic moves, including the sleeper hold. When he was eleven, Dwayne was 'playing' wrestling one school lunchtime when he put the sleeper hold on a schoolmate. The kid immediately passed out. Unfortunately, Rocky hadn't shown his son how to bring someone out of the sleeper hold. The ambulance and the police were called and Rocky had to come down to revive the student.
The Johnson house became a hangout for Dwayne's school-mates, who knew that they were going to have to go several rounds with their host. Dwayne would turn these events into mock TV shows, where he would pretend to interview the wrestlers. He would even interview himself as he portrayed the bad guy. His showmanship was immediately evident as he came out with all sorts of outrageous pronouncements against his intended victims.
Dwayne excelled in a number of sports. Physically he was miles ahead of his classmates. He had his first weights workout when he was thirteen, but he'd been tagging along with his dad to the gym since he was 5 years old. As he sat quietly on a bench and watched proudly as Rocky pounded out set after set with gargantuan weights, Dwayne breathed in the gym atmosphere and marveled at the sight of huge men doing seemingly impossible things with massive loads of iron.
While other dads took their kids to the playground, Rocky took Dwayne to some of the most hardcore gyms in the country. It was here that the future superstar learned that there was no replacement for pure, gut wrenching hard work.
A Love Affair with Iron is Born
At the age of eight, Rocky allowed Dwayne to participate in sports. He tried baseball, soccer, martial arts and gymnastics. What he was really longing to do was to start lifting weights, but he'd have to wait a few more years for that. Finally, on his 13th birthday, his dad took him to a local gym for his first ever weights workout. An obvious place to start was the bench press, which he'd studied for years as his dad and others pressed massive amounts of steel from their chest.
Rocky had his son start with an unloaded bar. He pumped out 10 reps with no problem, so Rocky added a 20-pound plate to each end. This time Dwayne pushed out 8 easy reps. Impressed, Rocky asked his son if he wanted to try the 45 pounders. Dwayne nodded his head. His dad stood behind him and lifted the bar off the supports – and Dwayne got buried under the 135-pound weight.
He felt embarrassed and ashamed – as if he had let his dad down. That feeling fuelled an intense desire to get better at the bench press and within a few years he would be bench pressing 400 pounds.
Between the ages of 14 and 15, Dwayne excelled in the gym. By the time he entered high school he had grown to a towering 6 foot 3 inches and tipped the scales at 225 pounds. His imposing physicality gave him a great deal of self-confidence, which sometimes bordered on arrogance. Eve though he had developed a healthy dose of self-discipline in the gym, his unstable home life, that saw his father constantly travelling, left him directionless when he wasn't pounding the weights. As a result, he started getting into trouble. It came to a head when he was fifteen and got arrested for check fraud. His parents had to come to collect him from the place station. When he looked at his mother and father he realized that, despite living from paycheck to paycheck, he was the biggest source of stress in their lives. In that moment he vowed that he would never cause problems for his folks again.
Although that was the last time Dwayne got arrested, it wasn't the last time he caused worry for Rocky and Ata. In fact, the very next day at school he got into a fight and knocked the other kid out. It earned him a two-week suspension. Upon returning to school he decided that the student's bathroom was not good enough for him and so he decided to use the teacher's one. When asked to leave he was rude to the teacher and tried to intimidate him with his physical presence.
That night Dwayne felt pangs of guilt at the way he had treated the teacher. So, the next day, he marched into the teacher's class and holding out his hand, said that he wanted to apologise for the way he had acted the day before. The teacher stared at Dwayne's hand for a moment then grabbed it and told Dwayne that he appreciated the apology. Then, still holding the boy's hand, he said. "I want you to play football for me."
Football Star
Football proved to be a positive outlet for Dwayne's frustrations and aggressions, providing him with a renewed sense of focus. Under the watchful eye of coach Jody Cwick, he steadily improved, both as a student and as an athlete. By the time he was a high school senior he was ranked as one of the top 10 defensive tackles in the country and was offered a scholarship to the University of Miami, the No.1 college team in the United States.
At Miami, Dwayne's combination of size, strength and athleticism coupled with his strong work ethic made him a standout from the very beginning. Practices were going great and he was primed to be the only freshman to play on the Varsity team. But then tragedy struck.
On the last day of practice with pads, he crashed to the ground under the full weight of his shoulder. It was dislocated and a number of ligaments were torn. That night he had reconstruction surgery and was told that he'd need a year to recover. He was put before the season had even begun.
"Success isn't always about 'Greatness', it's about consistency. Consistent, hard work gains success. Greatness will come."
Dwayne fell into a deep depression, not even bothering to go to class. Then, without even attempting any of his mid-terms, he hopped on a flight and returned home, which at that time was in Tampa, Florida. After a couple of weeks he got a call from Miami's head coach, Dennis Erickson. He told Dwayne that he wanted him back at school in two days. He wanted to talk to him.
When they met up, Erickson was furious with Johnson. He told him that he had embarrassed himself and the team. Erickson had trusted him with a position of responsibility and leadership and he had completely let him down. Erickson then placed Dwayne under academic probation. He was to attend every class, every practice and every game – sitting on the sideline. However, to get into daily practice he had to get the signatures of every one of his professors attesting that he had been to class that day. If he didn't, he would lose his scholarship.
Dwayne dug deep and did what had to be done. He eventually became academic captain and in his junior year was pre-season All-American. He graduated from Miami University in 1995 with a Bachelor of General Studies in criminology and physiology.
It was at the University of Miami that Dwayne met Dany Garcia, his future wife. They were married in 1997 and divorced 10 years later.
After a year's injury recovery, Dwayne wasn't quite a fast or as mobile on the football field. He was circuit from the team and replaced by Warren Sapp.
After graduation from Miami Dwayne went to Calgary, Canada as a practice squad player for the Stampeders. Things were tough for him in Canada. He had hardly any money and few prospects. But things got worse when he was cut from the Stampeders squad after just two months.
A Wrestler Like His Dad
Arriving back at his parents' tiny apartment in Tampa, Dwayne was now at rock bottom. His football career was effectively over. He needed to look in another direction. He dug deep and realized that all of his life his passion had been professional wrestling. If he never turned his hand to it, he would forever be unfulfilled. And if he was going to step into that world, now was the time.
His mother and girlfriend encouraged him to go for it, but Dwayne's dad had major reservations. Rocky knew firsthand just how tough the life of a wrestler was and he wanted more for his son. Yet, he vowed to stand behind his son, so long as he put 11% effort into becoming successful.
Rocky now became Dwayne's full-time wrestling coach. From the start, though, he taught him much more than wrestling moves. He taught him how to be a showman. After a few months of intensive work, Rocky felt his son was ready to take the next step. He got in touch with a former wrestler named Pat Patterson who was now a talent agent. Patterson came to check out what Dwayne looked like in the ring. Impressed he arranged for a signing with the WWE. Dwayne was put into the minor leagues and was given the name 'Rocky Maivia' in homage to both his father and grandfather. He started wrestling in small arenas for $20 a pop, but it didn't take long before he got his break.
The 1996 WWE Survivor series was televised live on TV from Madison Square Garden – and the new kid on the block was 'Rocky Maivia.' He made an immediate impression, establishing himself as a rising WWE star by becoming the last man standing. Rocky Maivia took on a charismatic, in your face persona which proved to be too loud and arrogant for many die-hard WWE fans. His character was rejected for being too tacky and fans came to see Rocky Maivia as an extremely unlikable character. When he wrestled the stadium would be littered with signs reading 'Rocky Sucks' and 'Die Rocky, Die.' But his perseverance and the constant refining of his character eventually won the fans over.
Fans came to appreciate that Rocky's narcissism was tongue in cheek, much in the mold of Muhammad Ali and they began to enjoy his over the top sense of humor. When he shortened his name to 'The Rock', the fans embraced it and, within a year, he had transformed the wrestler everyone loved to hate to the 'people's champ.'
Dominating the WWE
Throughout 1997 and 1998 the Rock had ongoing battles with Stone Cold Steve Austin, Triple H and Mankind. Throughout 1999 the WWF championship belt passed between The Rock and Mankind several times during a series of epic encounters. Then towards the end of '99, the two teamed up to become the Rock 'n Sock Connection and going on to win the tag team championship three times. The Rock and Mankind also performed comedy skits on WWE live telecasts. One of them was a take-off of This is Your Life in which Mankind interviewed people from the Rock's past. The segment drew an 8.4 Nielsen rating, one of the highest ever for a WWE segment.
"Blood, Sweat and Respect. First Two You Give, Last One You Earn"
In 2001, the Rock was suspended indefinitely during the airing of Raw is War. He used the suspension as an opportunity to move into the acting arena. Still, he would return again and again to the wrestling ring. In 2011 he was the host of Wrestlemania 2011. He spent a large part of the promo build up  insulting and taunting John Cena, who he had already been calling out on social media. A feud developed between the two which continued for another two years.
When he finally stepped away from the wrestling ring in 2016 The Rock had established himself as one of the great pro wrestlers of all time. Hulk Hogan, himself a dominating WWE figure, referred to him as 'the biggest superstar in the business', a sentiment which was echoed by John Cena. One of his many catch-phrases, 'lay the smackdown', inspired the title of television's second longest running TV series, Smackdown!
The Rock has also entrenched himself in the WWE record books. He was the first wrestler to win the WWF / WWE championship seven times. And his intercontinental championship reign of 265 days is the longest in the modern era.
A New Career Beckons
Dwayne's huge popularity as a WWE character allowed him to cross over into mainstream media. His first acting job was in a 1999 episode of That 70's Show in which played his own father. In 2000, he appeared in Star Trek: Voyager as an alien wrestler. His first movie appearance was a small role in 2001's The Mummy Returns. The movie was a smash hit, leading to a reprisal of his role, this time as the lead, in The Scorpion King. Johnson was paid $5.5 million for the role, earning him a spot in the Guinness Book of Records as the highest paid actor in a debut, despite it actually being his second movie.
The Scorpion King established Johnson as a bona fide star. With his comedic talents clearly established through his wrestling career, his next film, the action comedy The Rundown was a natural next step. This was followed up with a remake of the true story of kick-ass sheriff Buford Pusser in Walking Tall. This role cemented Johnson's position as the ultimate hard as nails action hero with a heart of gold.
Over the next few years, Dwayne skipped between comedies and action movies with such films as Be Cool, Doom, Tooth Fairy (a film which was originally written for one of the Rock's heroes, Arnold Schwarzenegger) and The Fast and The Furious franchise. His debut in Fast and Furious came in the fifth movie, after fans demanded to see a showdown between Johnson and Vin Diesel. The movie was the most successful in the entire franchise, making more than $86 million on its opening weekend. This remains the biggest opening for any Johnson movie.
Dwayne has interspersed his movie roles with appearances on a number of TV shows, many of them aimed at a pre-teen audience. He appeared in episodes of Cory in the House and The Wizards of Waverly Place and was the host of the Nickelodeon Kid's Choice Awards in 2009. That year he also appeared several times on Saturday Night Live where he introduced his Rock Obama character, a morphing of President Obama with the Incredible Hulk.
Superstar
By the end of the 2000's, Johnson had developed a reputation as a bankable star who could not only carry a new movie, but also had a proven record of being able to revive franchises that were getting tired. He became known as a very busy actor, with at least a couple of new movies coming out each year.
In 2013, Johnson starred in a couple of true life-based movie, Pain and Gain and Empire State. He also announced that year that he was to executive produce and star in an HBO TV series set in the world of professional football called Ballers. In December, 2013, Forbes magazine named Johnson as the highest paid actor of the year, with earnings of $1.3 billion.
"I Like To Use The Hard Times in The Past, To Motivate Me Today"
Ballers, which debuted on HBO in June 2015, proved to be a huge success. Johnson, who plays Spencer Strathmore, a retired NFL player who has gone on to a career as a financial planner for current NFL players, received props for his charm and depth. As of 2018, the show is into its fourth season.
In 2014, Johnson played the title character in Hercules. For this role he stepped up his already grueling workout and nutrition protocol in order to get as impressively muscular as possible. He followed this up with the huge disaster hit San Andreas, before switching back to comedy with Central Intelligence, alongside Kevin Hart.
2016 saw Johnson teaming with Zac Efron for a feature movie version of the classic beach and babes TV series Baywatch. The two hulky actors created a lot of pre-release buzz with their epic beach workouts in which Johnson would present Efron with gut-busting physical challenges. The movie, however, was a box office disappointment.
Johnson finished out 2016 by learning that he had been voted People Magazine's Sexiest Man Alive.
The next big project was a remake of the Robin Williams classic Jumanji. Johnson, along with co-stars Jack Black and Kevin Hart, brought a new, updated angle to the story that resonated with fans. The movie has so far brought in $829 million on a $90 million budget.
The Rock's Anchor
Throughout his life Dwayne has had one constant that has kept him grounded and which he credits as the basis of everything that he has achieved; the gym. From those earliest days when he would sit and watch his father dominate the weights in the 1970's, the sights, smells and sounds of working out became an integral part of his being.
Dwayne's workout intensity and dedication have been an inspiration to millions. He hits the gym at 4 o'clock every morning, training for up to 2 hours with heavy basic compound moves, interspersed with cardio to keep his body fat percentage into the single digits. He is a favorite with the bodybuilding community, appearing as a guest host at the 2016 Mr. Olympia competition.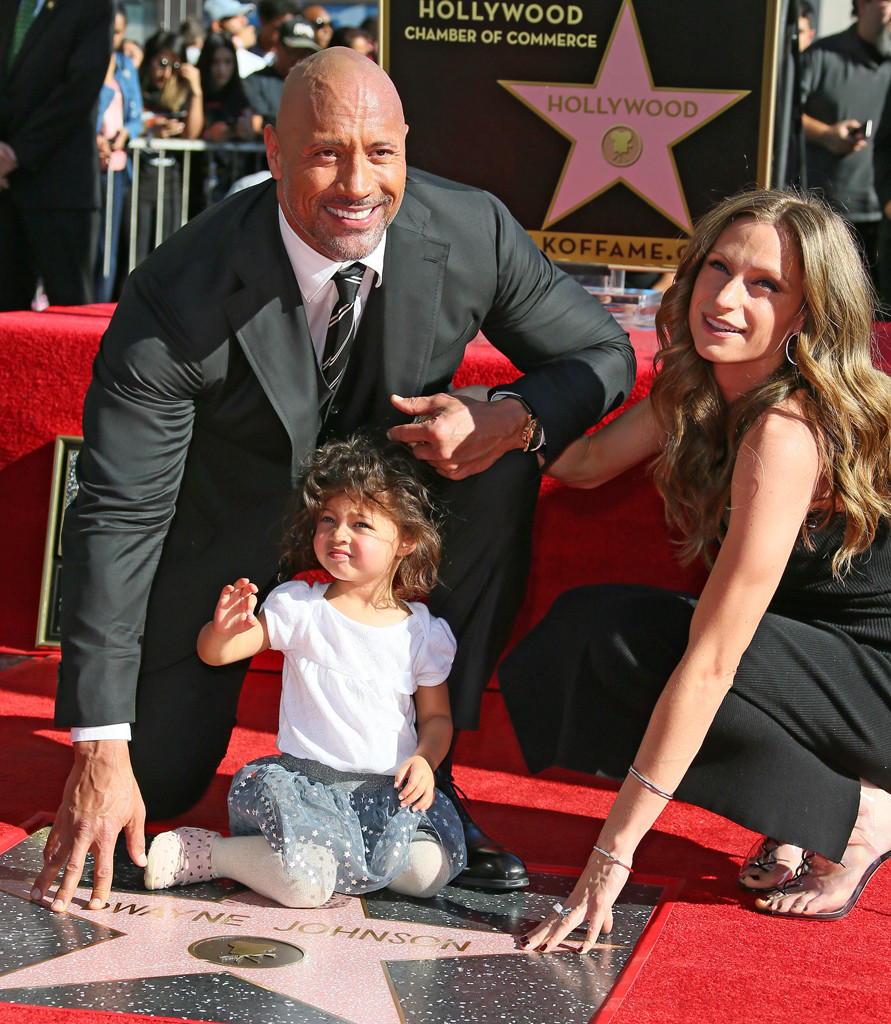 Since 2014, Dwayne has been living in Southwest Ranches in Florida. His first child, Simone, was born in 2001, while he was still married to her mother, Dany. In 2015 his second daughter, Jasmine was born to his girlfriend of 9 years, Lauren Hashian.
Dwayne Johnson has risen from humble beginnings to establish himself as the most bankable movie star of the 21st century. In the process he has brought back to mainstream entertainment the sort of alpha male persona that has been so absent for so long. He has become the people's champion once again.