There are few historical figures whose name evokes more dread than that of Blackbeard the pirate. Undoubtedly the most infamous man to emerge out of the Golden Age of Piracy of the late 17th-early 18th century, Blackbeard has far transcended all of his cohorts and has become not only an archetype for the villainous pirate captain, but a pop culture figure who is still present today in our movies, TV shows, books, and video games.
There were other, more successful pirates. Bartholomew Roberts aka Black Bart may have been the most triumphant corsair from the Golden Age of Piracy, capturing an estimated 400 ships during his career. Henry Every, dubbed "The King of Pirates", took one massive prize and managed to disappear forever, actually getting to enjoy the riches he plundered. Ching Shih, a female pirate who prowled the South China Sea, commanded a giant army of tens of thousands of men. And yet it is Blackbeard that everyone knows and everyone fears.
What was it about this larger-than-life figure that made him stand head-and-shoulders above his contemporaries? Today we will try to find that out as we explore the life of the dreadful pirate Blackbeard.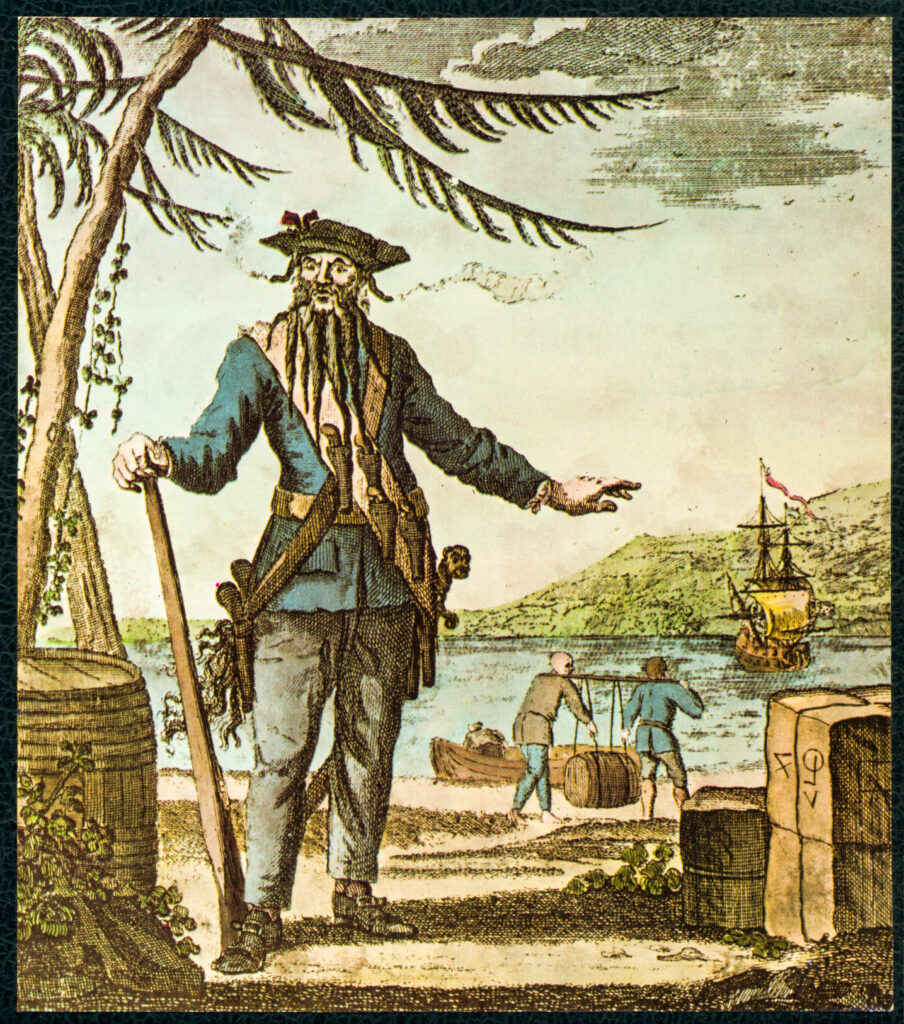 Early Life
Right off the bat, there is a problem with trying to tell the story of Blackbeard, one which is shared with pretty much every other pirate of his time – a lack of contemporary sources. Blackbeard might be the most famous corsair in history, but we know shockingly little about his life before he raised the black flag. 
The main source we have for Blackbeard's life and, indeed, for many of his ilk, is a book originally published in 1724 by one Captain Charles Johnson. It went by several very, very long names as it was reprinted in multiple editions, but it is typically known as "A General History of the Pyrates." It is a fascinating read and it certainly has a lot of juicy stories, but the way it presents its characters in a somewhat mythical way makes historians think that it might contain its fair share of fabulations, not just facts. 
Fittingly, even the author is a mystery to us. So little is known of Captain Charles Johnson that people have usually assumed it is a pseudonym. Since 1932 when the idea was first proposed by writer John Robert Moore, many people have been convinced that Charles Johnson was an alias of Daniel Defoe, the English author best known for his novel "Robinson Crusoe." Or it is possible that Charles Johnson never really existed and was simply an amalgam of anonymous authors who all contributed different biographies. 
Given that Blackbeard was in his late 30s – early 40s when he died in 1718, he was born sometime around 1680, presumably in Bristol. The name he used most often during his piratical career was Edward Teach, or sometimes Thatch, with various spellings of each incarnation. Truth be told, pirates often used aliases so we cannot even say with certainty that either one of these was his real name. It is a bit irrelevant, though, since everyone came to know him by the sobriquet "Blackbeard."
At that time, Bristol was a major international port, particularly active in the slave trade across the Atlantic. Therefore, it is almost certain that Teach started serving aboard a ship from an early age and some historians believe that he came from a respectable family and had a good education. 
According to Captain Johnson, before turning to piracy, Teach operated as a privateer out of Jamaica during the Anglo-French War of the early 18th century which, itself, was part of the larger conflict known as the War of the Spanish Succession. Specifically, Teach may have been active in the American theater known as Queen Anne's War where British colonists fought the French and Spanish. This is bolstered by the fact that, when he finally captained his own ship, Teach renamed it to the Queen Anne's Revenge.
In case you ever wondered what the difference was between a pirate and a privateer, we might as well clear it up now. While a pirate was a criminal who operated mostly on a free-for-all basis and attacked whatever ship caught his fancy, a privateer was more like a private contractor under the service of his government during wartime. He received a commission known as a Letter of Marque and was only allowed to target ships belonging to the enemy and he had to give a percentage of the spoils to the government. The problem was that, once the war was over, privateers were supposed to stop attacking ships. However, by that time, most of them already developed a taste for it and they did not really have any other marketable skills so many of them turned to piracy.
While we're at it, let's cover two more similar terms – corsair and buccaneer. A corsair was an English term used to refer to foreign privateers and it was intended as an insult. Meanwhile, buccaneers were a specific group of pirates from the Caribbean who started out as hunters on islands such as Tortuga and Hispaniola. They preyed on boar and cattle and sold the smoked meat to passing ships and, in French, the meat was known as viande boucanée. Because they were tough, skilled hunters, the buccaneers soon realized that it was easier for them to simply attack the ships which docked on their islands and, soon enough, they gained a fearsome reputation and were in demand by all pirate and privateer ships.
Raising the Black Flag
The story of Blackbeard starts in earnest in 1716 when he took up piracy. You might be surprised to learn that his career only lasted a little over two years, but it was enough for his infamy to spread and grow to the point where he is still a fearsome character 300 years later.
Teach was somewhat successful as a privateer. Captain Johnson mentioned that he "often distinguished himself for his uncommon boldness and personal courage", but specified that he was never given command of a ship. Then, he became faced with the same problem as all other privateers. In 1713, following the signing of the Treaty of Utrecht, the war ended. Teach no longer had the backing of the British Government to prey on Spanish and French ships so, inevitably, he turned to piracy.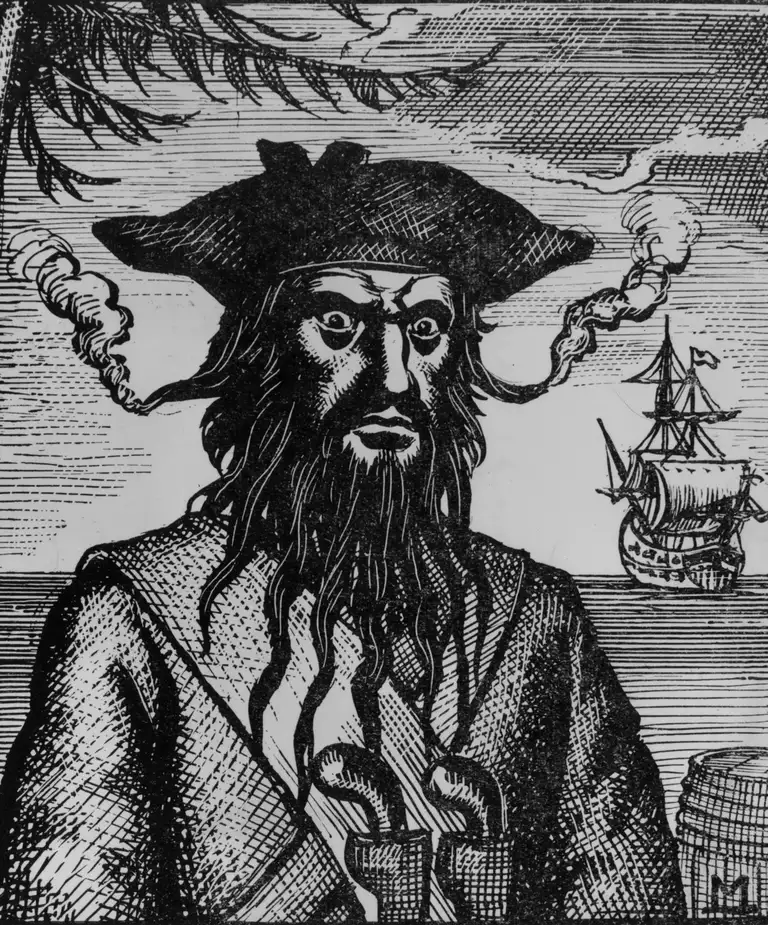 Sometime between 1713 and 1716, Edward Teach left Jamaica for New Providence, an island which proved to be an ideal headquarters for pirates. Although it once had colonists, it had been abandoned following numerous Spanish and French attacks during the war. Even though they were badly damaged, the island still had multiple structures, including a fort, so the pirates didn't have to start from scratch. 
Whilst in New Providence, Teach joined the crew of another famed pirate of that time, Captain Benjamin Hornigold. Hornigold's notoriety would increase in just a couple of years when he would accept a pardon from the British Government and become a pirate hunter, tasked with bringing down the same men he once sailed with, Blackbeard included. For the time being, however, the two had a strong relationship. Hornigold had clearly been impressed with Teach's nautical skills and gave him his first command of a ship that they captured. It was only a sloop of war, which was a smaller ship with only two or three masts, but it was a start.
Aboard the Queen Anne's Revenge
The beginning of 1717 was a fruitful period for Teach. Alongside Hornigold, he sailed to mainland America around the coast of Virginia and together they took several prizes. First, there was a ship coming in from Havana which had 120 barrels of flour. Then, another sloop from Bermuda which was carrying wine and, lastly, a ship traveling from Madeira in Portugal to South Carolina. 
After they had enough prowling the waters off the American coast, the pirates headed back to the West Indies in the fall. In November, they captured a French guineaman called La Concorde which had left Nantes and was headed for the island of Martinique. A guineaman was a large cargo ship intended specifically for the transport of slaves. 
According to a report given by the ship's French Captain Pierre Dosset, La Concorde had 16 cannons and 75 crewmen and was carrying over 500 slaves and around 20 pounds of gold dust. However, their voyage across the Atlantic was long and arduous and, by the time they encountered pirates, they had already lost 16 crewmen and 61 slaves, not to mention the fact that another 36 crewmen were stricken ill with scurvy and dysentery. When they met Teach about 100 miles away from Martinique, the French had little resistance to offer, especially as the two pirate ships had a combined might of 150 men and 20 cannons. After two volleys fired at La Concorde, Captain Dosset surrendered his vessel.
Afterwards, the pirates sailed the ships to the nearby island of Bequia where they dropped almost everyone off ashore. A few of the French crewmen joined up with the pirates voluntarily while several useful members such as surgeons, carpenters, and a cook were press-ganged into service. Teach preferred this new, larger ship to his old, tiny sloop so he left that one behind with the French sailors and took La Concorde. The French had little say in the matter so they accepted this new vessel which they renamed Mauvaise Rencontre (Bad Encounter).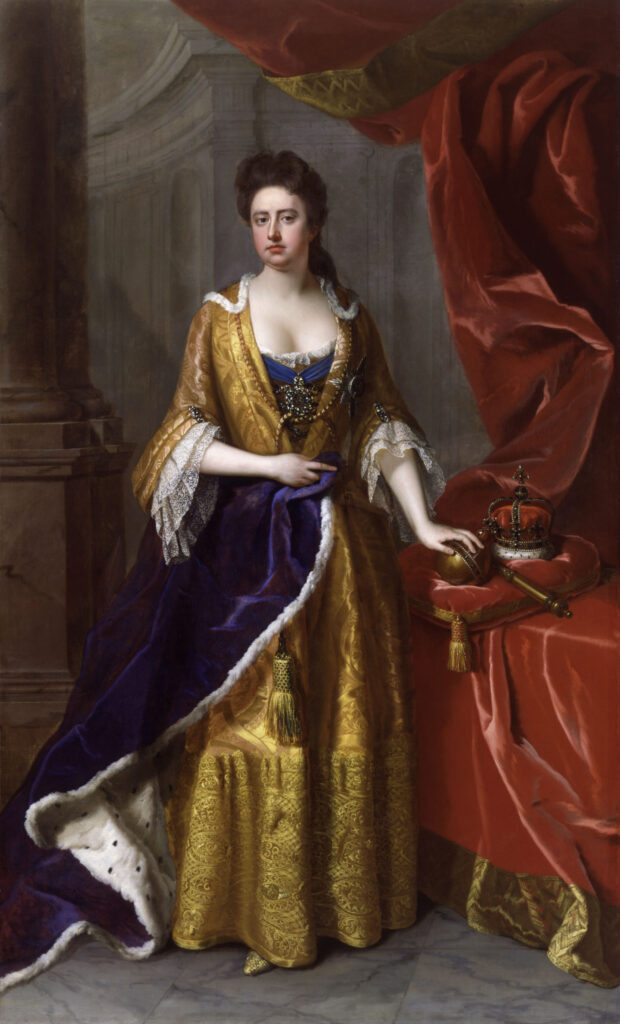 As for La Concorde, with Hornigold's permission, Teach captained it and turned it into his flagship, renaming it the Queen Anne's Revenge. We already mentioned that this name came from Teach serving in Queen Anne's War, but it is also possible that he was a Jacobite, a person who wanted to restore the House of Stuart to the throne of Great Britain instead of the House of Hanover. Queen Anne was the last monarch from the House of Stuart who had passed away in 1714.
Blackbeard and Bonnet
Now Teach had a ship that matched his ambitions and he was ready for the world to get to know and fear the name "Blackbeard." He spent the rest of the year prowling up and down the islands of the Caribbean, taking prizes whenever possible. These included a large vessel called the Great Allen which the pirates plundered and destroyed, as well as a sloop called the Adventure which Blackbeard kept and added to his fleet, captained by his sailing master, a pirate called Israel Hands. Near Barbados, the Queen Anne's Revenge engaged in a naval battle with a powerful man-of-war named the HMS Scarborough. Even though the other ship was armed with 30 cannons, the Queen Anne's Revenge proved to be more than a match for it and, after several hours of fighting, the Scarborough disengaged and retreated to Barbados.
Benjamin Hornigold and his ship, the Ranger, were present for some of these plunders. It is not exactly clear when he and Blackbeard parted ways, but in January 1718 he traveled to Jamaica to accept the King's pardon and become a pirate hunter. During this time, Blackbeard also made the acquaintance of another close associate, one who merits inclusion just because he is unique in piratical lore – Stede Bonnet.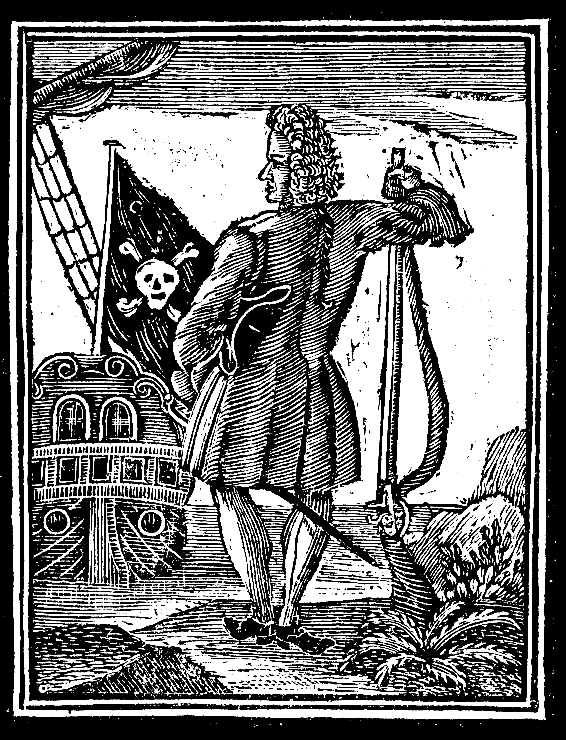 When exactly the two met varies based on the source. Some say that Teach and Hornigold first ran into Bonnet while they were plundering the coast of America, while Captain Johnson specified that Blackbeard met the other pirate captain after acquiring the Queen Anne's Revenge. 
What made Stede Bonnet truly special was that he seemingly had it all, yet gave it away to become a pirate. He was a wealthy, respectable landowner with a sugar plantation in Barbados. Even so, he borrowed money to buy and outfit a ship and secure a crew and left his past life behind and raised the black flag. We can only speculate as to his motivation. Maybe he went through an extreme "midlife crisis" or maybe he was just really, really bored and wanted some adventure? Contemporary accounts suggested that Bonnet suffered "some discomforts he found in the married state". However, becoming a pirate just to get away from a nagging wife seems a tad extreme to historians, who argue that Bonnet may have been mentally unstable.
Whatever the reason, Stede Bonnet became a pirate captain even though he had no knowledge of sailing. Teach picked up on this pretty quick when the two met and used it to his advantage in order to add another ship under his command. Bonnet's men were perfectly happy serving under the mighty Blackbeard instead of an inexperienced captain. Bonnet himself was recovering from an injury and was made a permanent guest aboard the Queen Anne's Revenge while one of Teach's men, a first mate named Richards, captained Bonnet's ship, the Revenge. Of course, in this case, "permanent guest" was a polite way of saying prisoner as it is hard to know what would have happened if Bonnet tried to forcefully regain command of his ship. This was never the case, however, as the "Gentleman Pirate", as he was sometimes called, seemed content sailing alongside Blackbeard and just being there for the ride.
Eventually, Blackbeard fully betrayed Bonnet when the captain decided he had too many ships in his fleet. He stripped the Revenge of loot and supplies and beached it, also marooning most of its crew on a sandbar. To his credit, Bonnet did learn a thing or two about being a pirate while sailing with Teach. He was able to get the Revenge seaworthy again, secured a crew and went in pursuit of his treacherous former companion.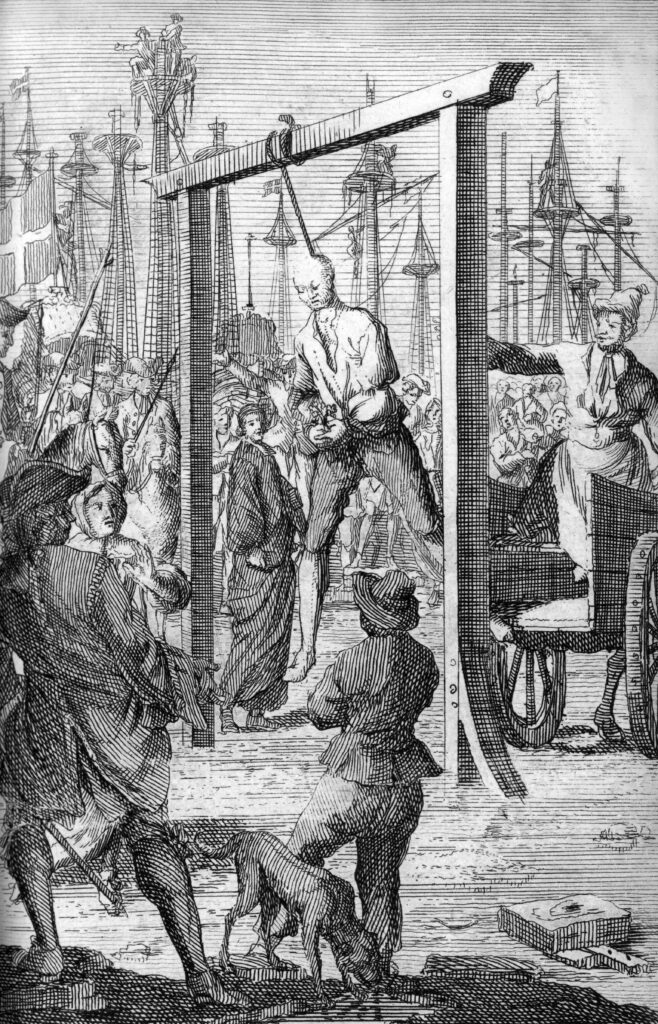 It would have been interesting to get a final confrontation between these two and see who came out on top. Alas, Bonnet never met Blackbeard again. Instead, he was caught and arrested and, after numerous delays, hanged for piracy. On the bright side (for us, at least), Bonnet's trial transcript became an important source for a big chunk of Blackbeard's career.
The Cult of Blackbeard
The first half of 1718 saw Blackbeard at the height of his power. He took prize after prize with little to no opposition because his fleet was mighty enough that no single ship stood a chance against them, but also because people began fearing the name "Blackbeard." If Teach was good at anything, it was cultivating a menacing reputation for himself which sent chills down everyone's spine and made ship captains surrender before there was any need for actual combat. 
Physically, Teach was an imposing man. He was described as being tall with wide shoulders and, obviously, he had a very long, dark beard. He wore a sling over both shoulders which contained braces for six pistols that he held across his chest like bandoliers. Allegedly, he was in the habit of taking long, slow-burning fuses, lighting them and tucking them under his hat so that little wisps of smoke would form around his head, giving him an otherworldly, frightening appearance.  
Curiously, Teach also apparently liked to take his long beard and braid it into pigtails tied off with colored ribbons. Doesn't exactly sound particularly terrifying, but I guess people were a lot easier to scare 300 years ago. Whatever he did, it worked, and most ships were ready to surrender as soon as they saw Blackbeard's flag.
Speaking of which…what was Blackbeard's flag, exactly? That's a hard question to answer. There is one design which had been associated with the pirate for a long time. It features a horned skeleton holding an hourglass in one hand and a spear in the other which is piercing a heart. It is an interesting design, but it appears to only be a hundred years old as it was actually first described in a magazine in 1912 with no evidence to suggest it was ever used by Blackbeard. 
As far as contemporary accounts are concerned, there is a single description which appeared in a newspaper, detailing an attack by Blackbeard's fleet on a merchant ship. It mentions that there were five pirate vessels in total – two of them had black flags with death's heads on them while the other three had bloody flags. Going by this information, it is possible that Blackbeard used the stereotypical skull & crossbones for his design.
The Blockade of Charles Town
In the spring of 1718, Blackbeard had enough of the Caribbean and sailed back to America. Here, besides taking a few more prizes whenever the occasion presented itself, Teach embarked on his most brazen endeavor – blockading the city of Charles Town, South Carolina, today called Charleston. The pirates boarded and seized all ships that tried to enter or leave the port. 
One of those vessels, the Crowley, contained a lot of rich, prominent Charles Town citizens headed for London. Blackbeard took them as hostages and told the governor that, if he didn't meet his demands, he would send the governor all their heads and burn down the ships he had seized.
Blackbeard's ransom demand was rather dull, but practical – he wanted a chest full of medicine. He sent one of the hostages, Mr. Marks, and a few of his own men ashore and gave them two days to return before he started chopping off heads. Those days passed without response but, fortunately for everyone involved, the captain wasn't a premature decapitator. Blackbeard delayed his punishment long enough that Marks arrived with the medicine and explained that the reason why it took longer than expected was because the pirates got drunk in the city and couldn't be found. Blackbeard was content with this explanation and released all his hostages safely…without their valuables, of course.
From there, the pirate fleet moved on to North Carolina where something bizarre happened at Beaufort Inlet – Blackbeard lost the Queen Anne's Revenge. Apparently, the intention was to careen it. Careening is the practice of grounding a ship intentionally at high tide so that, during low tide, you can repair or clean the bottom of the hull that's normally underwater. However, the ship apparently went too far ashore and ran aground into a sandbar. They tried to use one of the sloops to tow the ship back to water, but that one ran aground, as well, and both sustained too much damage to be usable again. Just like that, Blackbeard was left only with two sloops.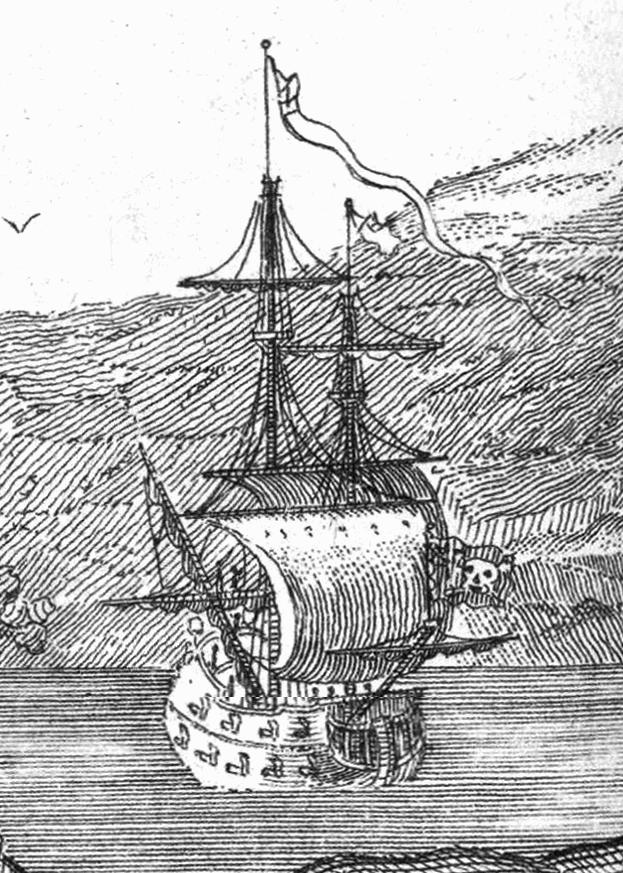 This proved to be a real boon for modern archaeologists as a search team found the wreckage of the Queen Anne's Revenge in 1996 and researchers have been studying and excavating it for over two decades. It wasn't until 2011 that it was conclusively identified as the flagship of Blackbeard the pirate, but it did raise a question regarding how it got there. Losing two ships while careening would have been, even using the gentlest terms, a foolish mistake. Up until that point, Blackbeard had shown himself a capable captain. That is why some historians speculate that he may have done it on purpose to break up his crew.
The Pardon & Passing of Blackbeard
Next up, Teach went to Bath, North Carolina, and accepted the King's pardon like Hornigold and many other comrades-in-arms. In an effort to curb piracy, King George I extended a one-time offer of pardon to all pirates who surrendered willfully, with the promise that those who didn't would be hunted down without mercy.
Whether Blackbeard did this because he lost his flagship or whether he ran the ship aground because this was his plan all along, we cannot say. What we do know is that he became close friends with the North Carolina Governor Charles Eden who not only gave Teach his pardon, but also a commission as a privateer aboard his remaining sloop, the Adventure. The pirate, more or less, continued his plundering ways, but now he had the approval of the governor who, most likely, received a cut of his spoils.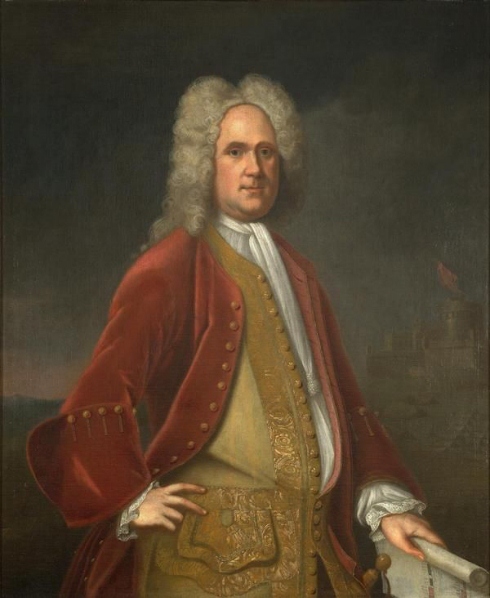 Eden may have been happy with Blackbeard prowling his waters, but the nearby Governor of Virginia Alexander Spotswood was not. Some of the captain's former crew members had already begun causing troubles in his territory and having Blackbeard in the area severely put a hamper on local trade. He had little legal recourse against the pirate, but he didn't care – he wanted Blackbeard gone one way or another. Technically, Spotswood commissioned two armed sloops to go capture Teach for several acts of piracy which he may have committed after the cut-off date for the pardon which was January 5. However, he did so knowing full well that this would most likely lead to a battle.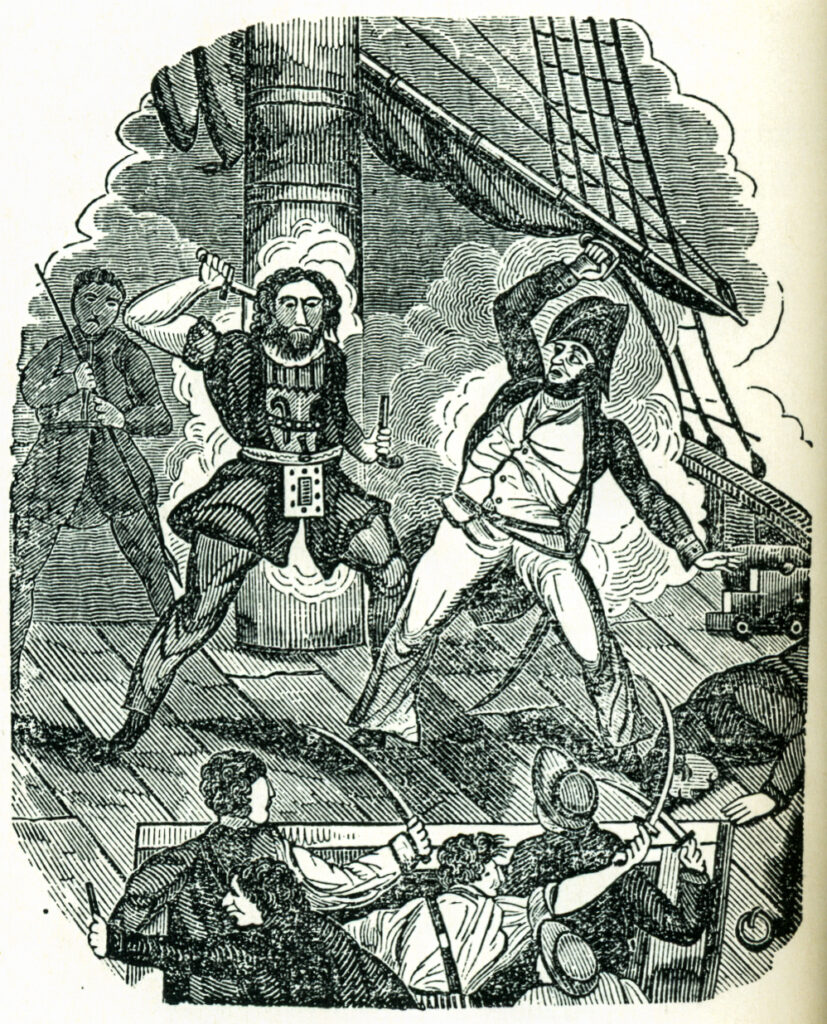 The Virginia force was led by Lieutenant Robert Maynard, a man described by Captain Johnson as "a gentleman of great bravery and resolution." On the morning of November 22, 1718, the two sloops approached the Adventure in the channel leading to Ocracoke Island and engaged it in a fight. First came several volleys of cannon fire which proved quite destructive to Maynard's forces and gave Blackbeard the advantage. This prompted the pirate to board the lieutenant's ship but, unbeknownst to him, he walked into an ambush. Maynard had ordered most of his men to hide below deck and trick the pirates into thinking they were severely outnumbered. As soon as Blackbeard and his cohorts were aboard, the British sailors pounced.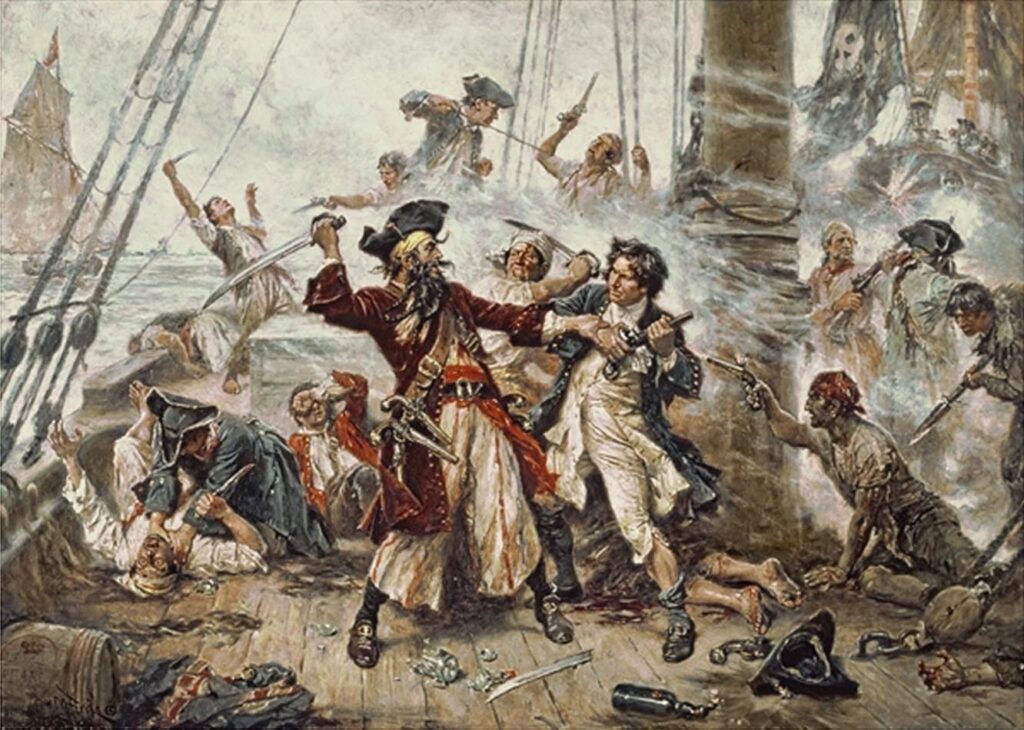 According to Maynard's account, the fight lasted six minutes. Afterwards, the infamous Blackbeard lay dead after being shot five times and cut twenty times. The surviving pirates quickly gave up. Maynard had Blackbeard's head tied to his ship's bowsprit while the rest of his remains were thrown in the water.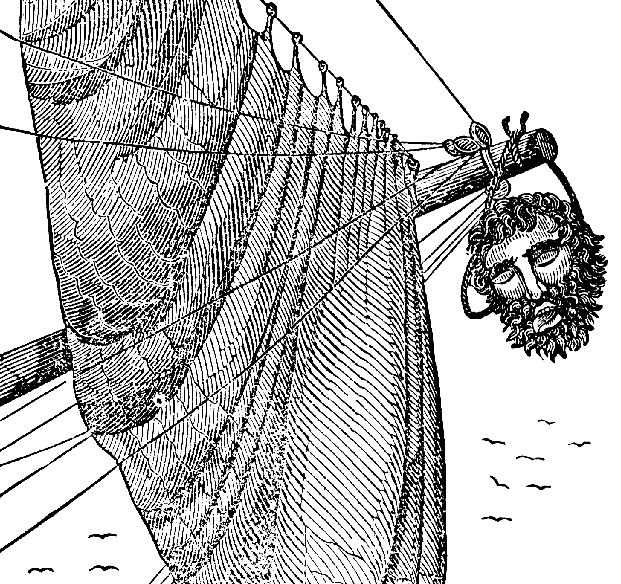 That was the end of the world's most notorious pirate. It was somewhat fitting that Blackbeard died in battle and got sent to Davy Jones' locker instead of being hanged like most of his contemporaries. If anything, this violent end only helped increase the legend of Blackbeard, as evidenced by the fact that it is still going strong today.