He was billed as the 8th wonder of the world – a legitimate giant of a man, 7 foot 4 inches tall and more than 500 pounds. Andre the Giant was the greatest attraction the world of professional wrestling has ever seen. Yet his appeal went far beyond the ring. With his humble manner and boundless charm, Andre became one of the most famous and recognizable athletes on the planet and a genuine cultural phenomenon. Yet, behind the celebrity, Andre was a man trapped inside a world he never created – one that would ultimately destroy him.
A Giant Emerges
The man who we know as Andre the Giant entered the world as Andre Rene Rousimoff on May 19th, 1946. His father Boris had migrated from Belgium to France in 1934, settling in Molien, just out of Paris. In 1938, Boris had married Marianne, a petite Polish woman who soon began producing offspring. Andre became the middle of five children.
Boris was a strong, stout man who stood just over six feet tall. He worked the land as a farmer and soon put his children to work, cutting firewood, tending the stock and otherwise getting their hands dirty.
At birth, Andre was 11 pounds, but there were no signs of abnormal growth during his first six years. Known as Dede as a result of his sister mispronouncing his name, he was a healthy, good looking and charming child. But, as he grew older, his rate of physical growth outstripped that of his peers. This was especially noticeable in his face, where his jaw and forehead became unusually pronounced.
At age six, Andre began attending school at nearby Ussy-sur-Marne. He loved the social interaction, and proved to be a good student, especially excelling at Mathematics. Already he towered over the other children, not only those in his grade, but those in any grade. He dominated in most sports, invariably finding himself in the position of goalie on the soccer field. With his large hands and long limbs it was virtually impossible to get the ball past him.
By the age of ten, Andre stood at six feet tall and tipped the scale at around 200 pounds. He looked and moved like a full grown man. On the farm, his father had discovered, he could do the work of three boys his age. So Boris took him out of school and put him to work full time on the farm.
The Rousimoff's had little in the way of material possessions. They were a close family and the children were raised with love and dignity. They learned to accept what came without complaint. So, when Andre was taken from school, though he missed the mental stimulation and the association with his schoolmates, he threw himself into the life of a farmer, sure that this was to be his lot. The physical labour, coupled with Andre's unnatural growth potential, allowed him to develop a level of physical strength that stunned onlookers. By the age of fifteen he was able to lift a car so that his brother could change the tire without having to worry about a wheel jack.
It was around the age of sixteen that Andre's growth spurt went to whole new level. His height quickly approached seven feet and his weight went into the 300's. But his parents were not overly concerned about his growth spurt and Andre was never taken to see a doctor.
During his mid-teens, Andre began a woodworking apprenticeship. After two years of diligent application and study, he decided that the trade was not for him and wen to work at a factory that made hay-baling engines. But the monotony of working an assembly line was worse than what he had previously been doing. Andre had dreams of doing something different – he just didn't know what.
With no other options, he went back to work for his father on the farm. By now his incredible size was constantly drawing attention and he became known as a local curiosity.Bt the time he was 18, his fame had spread as far as Paris. There, a wrestling promoter got to hear about the teenage giant who was stronger than three men. He took the trip to Molien and knocked on the Rousimoff's door. He told Boris and Marianne that their son had a future in wrestling – and the potential to make many francs. With his parents consent, Andre began learning the fundamentals of wrestling and was taken under the wing of Montreal born wrestler and promoter Frank Valois. He began on the Parisian wrestling circuit under the ring name of 'Jean Ferre', in honour of a mythical French giant.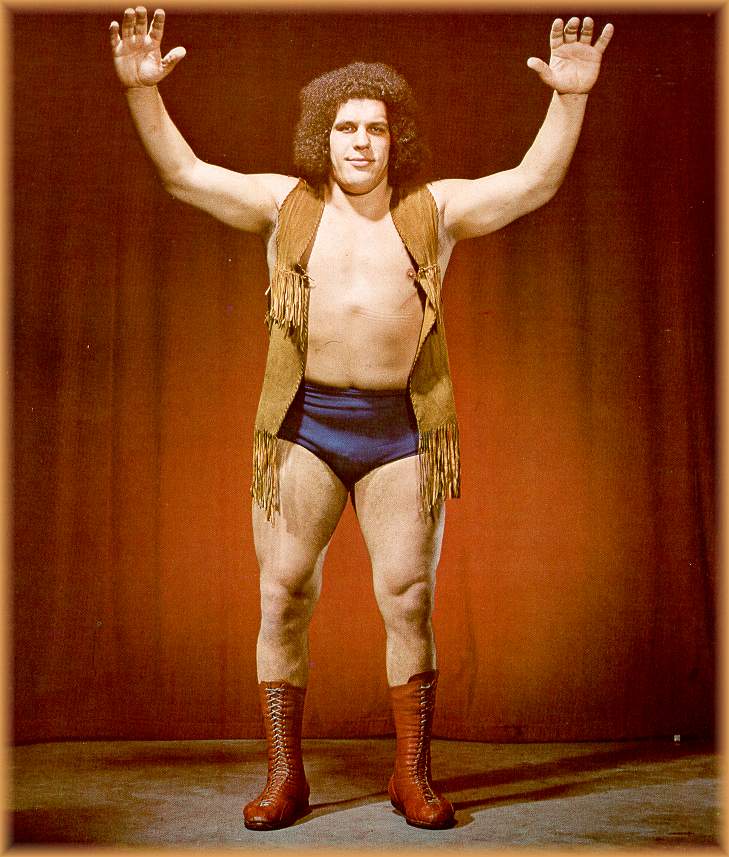 Andre the Wrestler
Andre worked as a furniture mover during the day in order to cover his expenses in Paris. After work he could be found in a wrestling gym slowly developing his craft. Even though pro wrestling then, as now, was more entertainment than sport, it was still necessary for Andre to learn the basic moves, falls and holds that would create the illusion of violence while keeping him from injury. However, with his intimidating size and strength it was hard for him to find opponent who were willing to share the ring with him. As a result, progress was slow. Despite this his sheer size and power ensured that he never lost in the ring.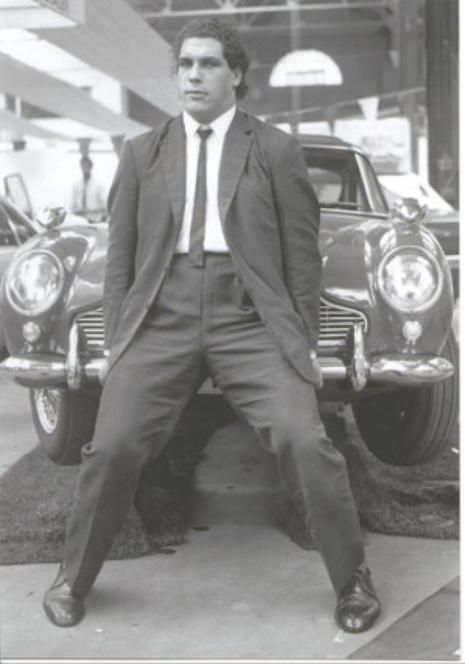 In 1965, Andre received a notice to report to the army's draft board. When he turned up for his physical exam, the recruiters could hardly believe what they saw – a nineteen year old who stood over 7 feet tall and weight 350 pounds. Despite his incredible strength and good health he was deemed unfit for service for the simple reason that the army did not have uniforms or shoes that were big enough for him.
Back in Paris, Andre met Eduardo Carpentier, a popular Montreal based Canadian wrestler. Asking the older man to train him, Andre spent the next two months learning valuable ring tips from the veteran. Before leaving for home, Carpentier advised Andre to get as much ring experience as possible. He also promised that he would one day bring Andre over to North America – where wrestling was much bigger than in Europe.
Meanwhile Andre continued paying his dues on the European circuit. He travelled around Europe and even as far as Africa, developing a huge following. Crowds were overwhelmed by his sheer physical size. Then, as the match began, they were delighted to see how he overwhelmed his opponents.
In 1969, Andre ventured off the European continent to wrestle in New Zealand, where he was billed as Monster Eiffel Tower. Then he went on to Japan where he competed, with an American partner, in the IWF World Tag Team Champs. The pair won the title – suddenly Andre was a world champion.
It was while in Japan that Andre was diagnosed by a doctor with the condition that had caused his unusual growth – acromegaly. This rare hormonal disorder of the pituitary gland causes overproduction of human growth hormone. It was caused by a benign tumor which, if it developed before bone growth was complete, would lead to gigantism. The doctor also informed Andre that life expectancy for people with the condition was 40 years. Andre told no one about his diagnosis, keeping the secret that, at twenty, his life, was more than likely already half over, to himself. But this knowledge undoubtedly spurred him on to reach the top of his chosen profession as quickly as he possibly could. Having now won a world wrestling title, he felt that he had sufficiently paid his dues and was ready to take on the Americans. From Japan, he travelled to Canada, where he met up with Eduardo Carpentier. There he became a part of the Montreal based Grand Prix wrestling circuit, quickly making a name for himself on the basis of his size, charm and surprising agility in the ring. He would often be paired against two, or even three opponents at a time. In one-on-one matches, he faced and defeated such Canadian luminaries as Killer Kowalski and Butcher Vachon.
At the same time that he was wrestling in Canada, Andre made frequent trips back to Japan where he was immensely popular. There he won the International Wrestling Federations World Series, defeating established stars like Karl Gotch and Billy Robinson in the process.
Andre's hard work in the ring was establishing him as a top international drawcard. In 1971 he was named as Rookie of the Year by the Wrestling Yearbook 1972. His biggest match to date came in May,1972 when he was pitted against the six-foot nine Mormon giant Don Leo Jonathan in what was billed as the match of the century. With 20,000 people on hand, the match set an indoor wrestling gate attendance record. The match was going Andre's way until he lost his temper and thrust his giant hands around Leo's neck. When his locker room guys ran in to stop him from choking out his opponent, Andre tossed them aside like ragdolls. Eventually order was restored – and Andre was disqualified. He had lost the match but had also established on of his key gimmicks – he was a lovable giant but make him mad and he turned into a killer!
After the bout with Don Leo, Andre began venturing south into the United States, where he would appear as a special attraction on American Wrestling Association cards. Now it was time to reach out to the biggest player in the market – Vincent J. McMahon of the World Wrestling federation.
Enter the Giant
Vince McMahon was first introduced to the man who became his greatest superstar in June of 1973. Until then Andre had been wrestling under the name if Jean Ferre. McMahon's first move was to re-brand the giant. No one in America knew who Jean Ferre was. But they could all relate to Andre the Giant. As well as changing the name, McMahon also modified Andre's on stage approach. Up until now he had shown remarkable athleticism. Now, he was to rely solely on his overwhelmingly size and bulk to defeat his opponents.
Andre's first match under the WWF banner took place on March 26th, 1973. He easily defeated Buddy Wolfe at Madison Square Garden. The American audience had never seen anything like this giant of a man and he was an immediate sensation. McMahon knew a good thing when he saw it, booking Andre to perform night after night, all over the country. By keeping the big man moving, McMahon was able to prevent the novelty of the gentle giant from wearing off.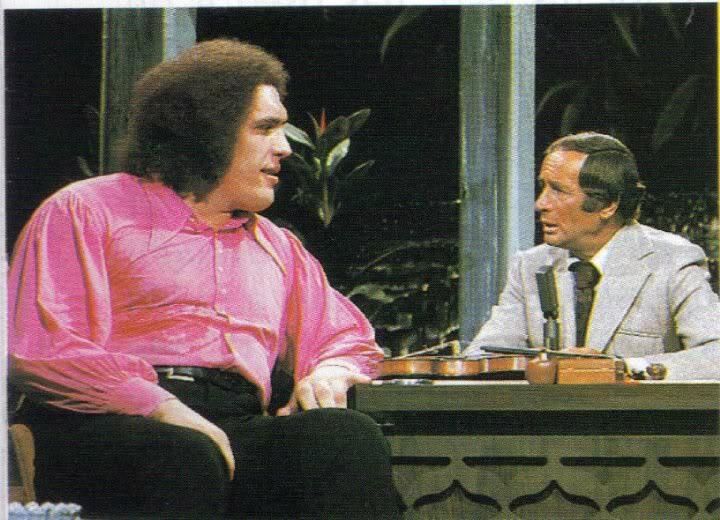 Everywhere he went, Andre shattered box office records. McMahon was careful, however, not to pit him against his other top draws for fear of damaging their prestige. As his popularity extended beyond the wrestling community, Andre began to receive offers for TV appearances. In the late 1970's he appeared on the Tonight Show and The Merv Griffin Show and was featured in such magazines as Sports Illustrated and People.
In 1976 Hollywood came calling. The writer of the most popular show on TV, the Six Million Dollar Man, had decided to capitalize on the string of Sasquatch reportings that had recently been made. They knew that there was only one man who could realistically play the 8-foot tall forest creature. And so it was that Andre donned a fur covered suit and prosthetic makeup and battled Lee Majors as millions watched on TV. To the horror of his legion of pre-teen fans, the six million dollar man was treated like a rag doll by 'sasquatch'.
Andre followed up his first acting role, with a mixed discipline match, fighting boxer Chuck Wepner in June 1976 at New York's Shea Stadium. The match was a knock-off of Muhammad Ali's famous match-up with Japanese wrestler Antonio Inoki. Wepner had won fame as the only man to knock down Ali and had been Sylvester Stallone's inspiration for Rocky.
The match began with Wepner taunting Andre while circling him and throwing out few jabs which the towering wrestler simply ignored. He was well aware that he could drop Wepner at any moment, but wanted to give the audience their money's worth. However, in the third round, Wepner managed to get a shot in that connected with Andre's face. He now had the big man's attention. Andre snorted and then hit Wepner with an inverted atomic drop and a headbutt. Then he picked the 6 foot 3 inch Wepner up like a rag doll and threw him over the top rope.
The match with Wepner had been a farce but it further cemented the legend of Andre's invincibility. In 1977, he was named as Pro Wrestling Illustrated's most popular wrestler. Promoters from all over the world pleaded for him to come over and face off with their champion.
The Great Rivalries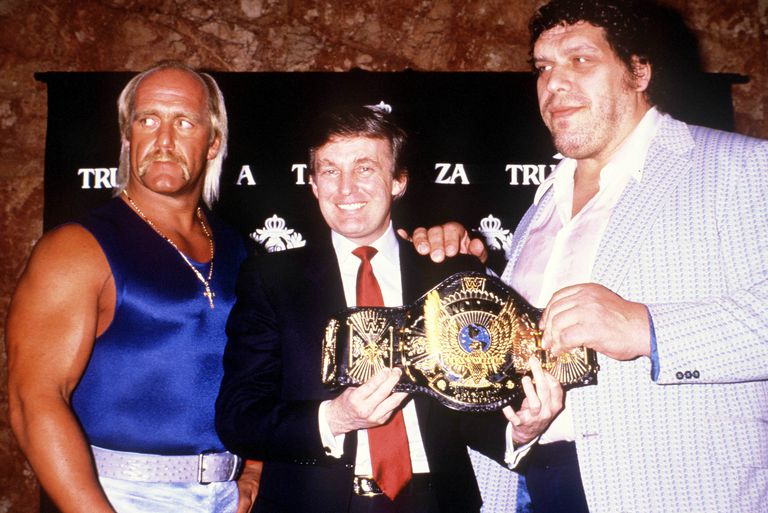 Andre had many hyped rivalries and match ups during the period of the late '70's. Perhaps the greatest was with Ernie 'Big Cat' Ladd. The six foot nine, three-hundred-and-fifteen pound Ladd was a four time All star defensive tackle who went on to become a career wrestler. He developed a very arrogant persona and had a penchant for sticking his thumb in the eyes of his opponents. As a result he was hugely unpopular – and the perfect foil for Andre. The two wrestled regularly across the country in matches billed as 'Battle of the Giants.'
In 1980, Vince McMahon first paired Andre with an up and coming wrestler who had formerly been a bodybuilder. His name was Terry Bollea, but his WWF stage name was Hulk Hogan. McMahon paired him up with a theatrically sleazy manager by the name of 'Classy' Freddie Blassie. Hogan and Blassie were marketed as the ultimate cheat team and the ideal antagonists for by the book Andre. The tactic worked a treat with Hogan becoming the most hated bad guy in WWF history. At 330 pounds Hogan marched his way through the Federation's lesser stars. The fans demanded a match up with Andre and, in March 1980, McMahon made it happen.
Despite his in character bravado, Hogan was terrified to match up against Andre. The very thought of working a match with the Giant made him physically ill. The matchup that resulted seriously injured Hogan. He recalled that Andre 'messed up my shoulder, screwed my neck up and suplexed me on the head.'
It soon became clear that Andre had a personal dislike for Hogan. They traveled together to Japan for a series of matches. As they went around the country, Andre continued to taunt the young wrestler, sitting in the back of the bus so he could bounce his empty beer cans off the back of Hogan's head. Hogan accepted the humiliating treatment as a rite of passage.
By the age of 34, Andre had become the biggest thing in the world of wrestling. But to those outside of that world, he was generally seen as little more than a sideshow freak. He was constantly subjected to the stares and jeers of the public. And then there were the discomforts imposed by his gargantuan frame. He suffered from agonizing back pain and joint ailments. And he could never find a chair or bed that provided anything approaching comfort for him. And, of course, always, in the back of his mind, was the knowledge that his time was running out – he wasn't meant to make it past 40.
Andre's appetite for food was pretty impressive – but that was nothing compared to his liking for alcohol. He loved French wine and would often drink an entire case before lunch. During more than one all night drinking session he was known to knock back in excess of one hundred handles of beer. Even then he would show little signs of drunkenness.
Andre and Hogan continued their in the ring feud through to the end of 1980, drawing huge crowds. But by the next year, Hogan had left the WWF over after a disagreement with McMahon over his role in Rocky III.
As 1981 began Andre was at the top of his game. His rivalry with Hogan was soon replaced with an ongoing feud with the Mongolian Giant, Killer Khan. In a match on May 2nd, 1981 Khan brought Andre to the canvas, leaving the Giant unable to get up. His ankle had snapped. Andre was out for several weeks and the storyline was hyped that he was out for revenge. They met again on July 20th, 1981 but the match ended in a double disqualification.
Andre went on to dominate throughout the early to mid '80's. On April 7th, 1986 he prevailed in a twenty man battle-royal to come off the victor at Wrestlemania 2.
Following Wrestlemania 2, Andre took a break from wrestling. After a decade and a half in the ring his body was breaking down. The health effects of his acromegaly were also compounding. During this period he was given a part in the Rob Reiner directed movie The Princess Bride. He played the role of lovable giant Fezzik in what has become a cult movie classic.
Returning to the WWF in 1987, Andre faced up to his old nemesis Hulk Hogan, now back in the WWF fold. At Wrestlemania III Andre weighed in at 520 pounds. This put huge strain on his joints and lower back, causing constant pain. In the the final matchup, Hogan defeated Andre with what became known as the 'body slam heard around the world.' Hogan tore his latissimus dorsi muscle in the monumental effort required to hoist the Giant overhead.
Andre got his revenge in a rematch that was aired on The Main Event in February 1988. He defeated Hogan and took the WWF World Heavyweight Championship from him.
The Decline
Andre went on for another four years, but he wasn't the wrestler he had been. His body was racked with pain, sometimes to the point that he couldn't stand without leaning on the ropes.
Andre owned a ranch in Ellerbe, North Carolina and spent more and more time there as his health deteriorated. He was there in January of 1993 when he heard that his father had died back in France. He hopped on the next plane in order to attend the funeral. After the funeral he stayed on to spend time with his mother and siblings. On the night of January 27th he died in his sleep as a result of congestive heart failure. His mother intended to bury him alongside his father. But Andre had recently revised his will, in which he stated that he wished to be cremated. In accordance with his wishes his ashes were returned to the United States and scattered on the grounds of his ranch at Ellerbe.
Back in America, and around the world, millions of fans mourned the loss of the biggest and baddest man to ever step into the ring.